Fizziology LLC, which earned its chops measuring entertainment industry buzz in Hollywood and New York, has created a stir by gaining a rare endorsement from Twitter for its newest product.
The popular social media site on Sept. 30 bestowed its Twitter Certification on Momentum, a computer program Fizziology launched just a week earlier for tracking Twitter trends for clients that include a number of the country's biggest movie studios, television networks and retail brands.
The certification basically acknowledges that Momentum enhances Twitter for users.
Twitter won't comment on how many companies have attained the certification, but industry sources put the figure at about three dozen.

Handley
"Thousands of companies each year apply for Twitter certification," Fizziology Chief Operating Officer Jen Handley said. "We didn't apply. Twitter approached us.
"We're the leading social media research firm in Hollywood."
Fizziology was launched in 2009 as a sister company of ad firm Bradley and Montgomery. The brainchild of Bradley and Montgomery executives Handley and Ben Carlson, it has gained a following by researching consumer sentiment through social media—primarily Twitter, Facebook, Instagram, Tumblr and WordPress blogs.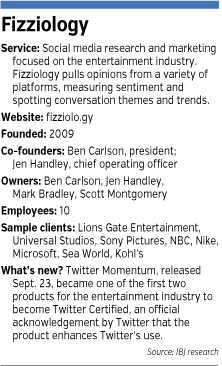 During the first two years, growth was slow, but Handley said revenue began doubling annually in 2012, and is projected to double again this year and in 2015.
Fizziology's client list includes Lions Gate Entertainment, Universal Studios, Sony Pictures, NBC, Nike, Microsoft, Sea World and Kohl's department stores. Many of Fizziology's roughly 25 clients signed six- to 12-month deals valued in the six-figure range, Handley said.
Fizziology contracts with The Able Few, a consulting firm with offices in Indianapolis and St. Louis, to help write the software that runs its analytical programs.
The key to the success of Fizziology products is the objective nature of the feedback, said Deidre Pettinga, a University of Indianapolis marketing professor with a doctorate in media psychology.
"The feedback from social media is better than a focus group, which in some ways can be inherently biased," Pettinga said. "The unique aspect of what Fizziology is providing is their research methodology. The process is not just mechanical. So you can see where their objectivity would be of paramount interest to their clients."
Momentum is designed solely to give clients an in-depth look on Twitter at consumers' and potential consumers' backgrounds and sentiments toward the clients and their products. The software excels at giving clients "a three-hour snapshot at a certain moment in time, for instance when a movie trailer is released or a casting announcement is made," Handley said.
Fizziology's new offering got a mention shortly after its release in The Hollywood Reporter and turned heads at #TwitterforMovies, a summit for film industry executives in Los Angeles late last month.
Aaron Couch, editor of The Hollywood Reporter, mentioned Fizziology in a recent column about Twitter's work in the movie sector, and said in an interview that there are only "a handful of firms that are attempting to track social media in hopes that it'll predict how well a movie or TV show will do."
Competitors such as Boston-based Crimson Hexagon and San Francisco-based Salesforce.com have surfaced recently, but Fizziology executives say their nuanced approach to measuring real-time reactions of audiences for studios, networks, production companies and brands sets the company apart.
Fizziology officials are confident the Twitter designation will help them earn more business. Although Fizziology paid nothing for the certification, Twitter essentially helps Fizziology by putting information about Momentum on its website and pitching the product to Twitter's corporate customers.
Robert Unmacht, principal of Nashville, Tenn.-based media and technology consulting firm iN3 Partners, isn't surprised Momentum is gaining attention.
"Of all the social media platforms, Twitter has the most impact and the most potential from a marketing standpoint," Unmacht said. "Any tool that can measure that medium is going to be valuable, and obviously that's how they feel in Hollywood."
It's clear, he added, that movie studios and TV networks are beginning to take the data more seriously as they increasingly stress the use of Twitter and other social media as marketing tools.
Despite Fizziology's following in media meccas like Los Angeles and New York, company officials say they have no plans to leave the two-story house they work from on College Avenue in Broad Ripple.
"We very much love running our business out of Indianapolis," Handley said. "This is where we're from and overhead is certainly cheaper here."
Fizziology officials make trips to L.A. and New York every two to three weeks. Bradley and Montgomery has an office and support staff in Santa Monica, California.
Fizziology officials aren't the only ones who like that the company is in the Midwest.
"Our clients appreciate that we have distance from the Hollywood scene," Handley said. "It really shows we have a lack of bias. It's a point that comes up with our clients over and over."•
Please enable JavaScript to view this content.