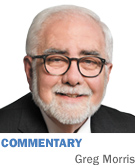 I've just returned from the annual Indy Chamber Leadership Exchange trip, where city, business and community leaders examine a city recognized as succeeding in many key areas. This year, Nashville, Tenn., was the destination.

Why Nashville? Nashville is receiving national attention for its economic growth, efforts to attract talent, and impressive community redevelopment projects.

Previous cities visited include Austin, Charlotte, Denver, Portland and Cologne, Germany. One year, the group stayed right here in Indianapolis and tried to view the city with an objective eye.

My Nashville visit once again reaffirmed my belief that Indianapolis is a great city to visit and desirable place to live and work. We're not perfect by any means, and we can do many things better. That's why we take these trips—to discover ways to improve.

And the effort is reciprocal. A large contingent from Nashville visited Indianapolis two years ago to gain insight into how Indianapolis has achieved success.

On many levels, Nashville is an impressive place. It's great fun, and city leaders have done an excellent job branding themselves as "Music City." There's a lot of action downtown in the music districts seven nights a week. The streets are full of people, and you can hear country music echoing off the downtown architecture.

If you stand outside and watch, you'll see a parade of aspiring artists pull up and unload their amplifiers, guitars and other instruments in preparation to perform a few sets of music with the goal of getting discovered by a talent scout or music-industry executive.

Of course, Nashville is the home of the Grand Ole Opry, the Country Music Hall of Fame, CMT (Country Music Television), and the historic RCA Studio B, where Elvis Presley recorded more than 260 songs.

But today, while embracing the region's roots as the longtime capital of country music, all genres of music co-exist and thrive. The city attracts artists, music executives and a lot of young talent from the likes of New York and Los Angeles. Nashville has successfully reinvented itself since the pioneering days of country music.

Everything in Nashville reinforces the music brand. The large ballroom ceiling in the convention center is shaped like a guitar. Images of musical notes appear everywhere. The Nashville brand is even on television; there's an ABC musical drama series airing Wednesday nights appropriately titled Nashville; it just started its third season.

There's no doubt about it: Nashville is the country music capital of the world and the city's leaders know how to leverage their brand. But it's not all music.

Take the health care sector as an example. That industry contributes nearly $30 billion and more than 200,000 jobs to the Nashville economy annually. HCA (Hospital Corporation of America) is based in Nashville and operates 165 hospitals and 115 free-standing surgery centers in 20 states and England. Many other business sectors also thrive in Nashville. I need a lot more space than this column to properly communicate all the information that was downloaded on this trip. The key takeaways are being processed by Indy Chamber CEO Michael Huber, his staff and other community leaders who were there. But here are a few things that were discussed:

• Supporting entrepreneurship. Nashville has an impressive and innovative Entrepreneur Center run by a talented and energetic CEO—Michael Burcham. It's unlikely Indianapolis can clone this massive effort, but we can make strides.

• Attracting, engaging, developing and retaining talent. Are we going to resist the initiatives and amenities millennials are looking for today or are we going to embrace new ways to attract young talent to our city? Mayor Ballard and staff have done an excellent job with initiatives in this area, but he could use some help in the political cooperation department.

• Marketing and branding a city. Indianapolis does not have Nashville's mega "Music City" brand. The lesson here is, don't concentrate on what we're not; instead, focus on what we are. The goal should be to identify who and what we are and then engage the entire community to clearly drive that message home as much as possible.

Indianapolis is already a great city; we can be better. If we all work together, and apply lessons learned from other great cities, we can ensure our success for decades to come.•

__________

Morris is publisher of IBJ. His column appears every other week. To comment on this column, send e-mail to gmorris@ibj.com.