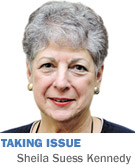 Turnout in the recent vote in Scotland over whether to secede from the United Kingdom was reported to be 85 percent. Turnout in the most recent primary election in Ferguson, Mo., was 12 percent.
These are undoubtedly the "poles"—the extremes. Yet …
Americans seem evenly divided between those working to increase voter turnout—the League of Women Voters, TurboVote and similar efforts—and those trying to make voting more difficult.
Accusations of voter fraud have dominated discussions of turnout over the past several years, although, according to the Justice Department, out of 197 million votes cast for federal candidates between 2002 and 2005, only 40 people were charged with voter fraud, and only 26 found guilty. That comes to about 0.00000013 percent of the votes cast.
Meanwhile, as we debate voter ID laws aimed at solving this minuscule problem, we aren't having the discussion we should be having, which is what it would take to improve voter participation.
American turnout is 138th out of 172 countries ranked by "Why Tuesday?"—a civic organization that wants to see Election Day made a national holiday, or at least moved to a weekend. The organization cites studies showing that one of the most prevalent excuses for failing to vote is, "Couldn't get off work." Another alternative would be to adopt a vote-by-mail system like that used in Oregon.
Although it would never happen here, many other democratic countries—notably Australia—require people to vote and fine those who don't. (Actually, as I understand it, what is mandatory is appearance at the polls. There is apparently something akin to a "none of the above" option that will fulfill the legal obligation.)
The notion of requiring people to vote is foreign to Americans, and it runs headlong into our emphasis on individual rights.
However, proponents argue that increased participation would increase the likelihood of election results that mirror the preferences of the entire population, not just those willing and able to express those preferences at the polls. Furthermore, knowing that they would have to cast a ballot, at least some Americans who are disengaged might make an effort to know something about the people on that ballot.
Arguably, universal turnout would require candidates to craft more inclusive messages, since targeting an ideological sliver would no longer be the path to victory. (That targeting is one reason for our currently polarized politics.) Candidates and parties would also save a lot of money and effort currently spent on get-out-the-vote efforts. The role of money in politics would thus abate somewhat.
Whatever the merits of such a system, it won't happen here. But that's no reason we cannot make voting more convenient. If we cannot make Election Day a holiday, or otherwise lower the barriers to in-person voting, we should emulate the states—Oregon, Washington and Colorado—that conduct their elections by mail. A ballot is automatically mailed to every registered voter, and traditional in-person voting precincts are not available.
Registered voters receive a ballot two to three weeks before an election, giving them time to research candidates, and a security envelope in which to return their ballot by mail or in official drop boxes provided around the state.
A presidential commission found that the best vote-by-mail systems both cut costs and increased turnout.
If we really wanted to increase civic participation, we could.•
__________
Kennedy is a professor of law and public policy at the School of Public and Environmental Affairs at IUPUI. She blogs regularly at www.sheilakennedy.net. She can be reached at skennedy@ibj.com. Send comments on this column to ibjedit@ibj.com.
Please enable JavaScript to view this content.