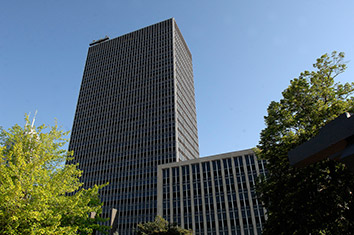 A federal judge in Indianapolis has ruled that the statute outlining how Marion Superior judges are elected is unconstitutional. Because a stay has been issued, the ruling will not impact next month's election.
Chief Judge Richard Young in the Southern District of Indiana issued the ruling Thursday, granting plaintiff Common Cause Indiana's motion for summary judgment on whether the law is constitutional. The ACLU of Indiana filed the lawsuit on Common Cause's behalf in November 2012.
The election of Marion Superior judges is unique in Indiana, and perhaps the nation, Young noted, as neither the court nor the parties can find any other example of an election system like it.
Under the statute, the Republican and Democratic parties may nominate up to half of the open positions for Marion Superior judge. Once a judge wins in the primary election, he or she will be elected in the general election because there are as many candidates on the ballot as there are open positions.
Because primaries are restricted to the two major parties, only people eligible to vote in primary elections have a chance to cast a meaningful ballot for only half the open judgeships. Furthermore, people ineligible to vote in these elections because they do not declare a party have no say in the election of the judges, Common Cause alleges.
"… [T]he potential for independent and third-party candidates to appear on the ballot does not alleviate the burden imposed by Indiana's electoral scheme: when a person proceeds to the ballot box on Election Day, he or she must be afforded an opportunity to vote for the judge who will fill Marion Superior Court #1, the judge who will fill Marion Superior Court #2, and so forth," Young wrote. "Indiana law does not permit this. … The court therefore finds the challenged Statute severely burdens the right to vote."
"In addition, Defendants' concerns regarding voter fatigue and voter education are applicable to any election, and cannot be remedied by a statute that attempts to remedy this concern by taking candidate choice away from voters," Young continued. "In any event, if voter confusion was actually a concern of the Defendants, they could easily clarify the ballot by requiring that each court be elected separately. Maintaining the status quo in Marion County simply is not justified on this basis."
The ruling is stayed during the 30-day period within which the defendants may file a notice of appeal. If an appeal is filed, the ruling will remain stayed pending a final determination by the 7th Circuit Court of Appeals.
Please enable JavaScript to view this content.