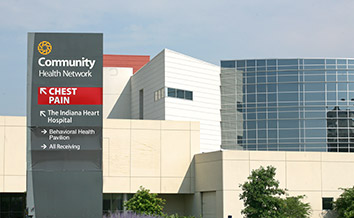 Hospitals around the state have been trying to cut emergency room visits—and Obamacare was supposed to help.
But the results have been mixed, according to some local hospitals. While Eskenazi Health and Indiana University Health ER visits have continued declines that began in 2013, Community Health Network has been surprised that its visits continue to climb.
Obamacare, by expanding health insurance, was designed to reduce unneeded ER trips because patients with insurance would be able to pay for care before their health condition reached a crisis.

Teffeteller
"That's what we were hopeful for," said Scott Teffeteller, president of Community Hospital East, which houses Community's busiest ER. But ER visits are on pace to rise 4.6 percent in 2014 after increases the past five years averaging 6 percent.
So last month, Community announced it would spend $45 million to expand the ER at Community East, as well as $130 million more over several years to build three outpatient facilities on the east side.
At Eskenazi Health, by contrast, ER visits are on pace to fall 6 percent this year, following a 7-percent decline last year. And at Indiana University Health's Methodist Hospital, ER visits are on pace to fall 3.8 percent this year after a decline of 6.9 percent last year.
Before Obamacare, more ER visits simply meant more revenue for hospitals. The visits average $2,200, according to a study published by researchers at the University of California-San Francisco last year—about 10 times more than a visit to a physician office.
But since the health reform law spurred creation of payment programs that reward hospitals when they cut spending, hospitals have been trying to reduce ER visits as one of the easiest ways to cut spending.
Even so, ER visits are up nationally this year, according to a study released last month by the Colorado Hospital Association. But there is variation from market to market, noted Dr. Mitch Morris, U.S. health care practice leader at the Deloitte consulting firm.
"In markets where there's not a lot of urgent care outlets, we're seeing increases in emergency use," Morris said.
Inefficient option
Keeping ER visits in check is good for patient health and, increasingly, for hospital finances.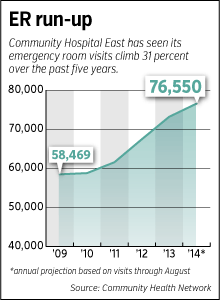 Patients often come to ERs for conditions that could have been avoided had the patient been getting checkups in physician offices or health clinics, noted Teffeteller, of Community East. He said that's particularly the case for patients with such chronic diseases as heart failure or obstructive pulmonary disease.
"The emergency room isn't always the best place to get care," said Teffeteller, who joined Community a year ago after leading Union Hospital in Terre Haute.
It can, however, be the most convenient place to get care—especially if few nearby locations provide urgent care on an outpatient basis. Emergency rooms are open 24 hours a day and don't require an appointment—although they do often require patients to wait in line.
If anything, Obamacare's expansion of insurance coverage appears to be pushing up ER use even more. According to the Colorado Hospital Association study, states that expanded Medicaid coverage for low-income residents—funded by Obamacare—have seen ER visits increase 5.6 percent this year. But Indiana and other states that did not expand Medicaid coverage have seen ER use increase just 1.8 percent.
In Indiana, insurance coverage has expanded modestly. About 228,000 Hoosiers purchased private health insurance this year, an increase of 50,000 from the year before, as Obamacare provided tax credits to help low- and moderate-income Hoosiers purchase insurance.
Some of those additional buyers had been insured by employers that ended group health plans. However, employers that maintained health insurance plans have reported higher participation by workers and their dependents—most likely due to Obamacare's "individual mandate," which taxes most individuals who do not obtain health care coverage.
That mandate, as well as intense media coverage of Obamacare, also contributed to about 40,000 additional sign-ups for Indiana's Medicaid program.
The state chose not to accept additional federal money this year to expand Medicaid eligibility to more Hoosiers. Gov. Mike Pence is negotiating with the Obama administration to expand coverage using the Healthy Indiana Plan, which would give health savings accounts to low-income Hoosiers and, unlike Medicaid, require small payments from those who enroll.
"We kind of expected that there would be an increase in utilization in urgent care in general," said Morris, the Deloitte consultant.
That's because patients who haven't had insurance may have untreated medical conditions. It may also be because, even with insurance, patients who made a habit of using the ER don't immediately change that practice.
Learning curve
Hospital executives aren't sure if ER use will decrease as newly insured patients get used to using health care providers outside the ER. Some think the continued proliferation of health coverage that includes health savings accounts or high deductibles will continue to cause people to wait to receive care until an emergency arises.
"We have seen an increase, and we explain that as pent-up demand. We see a decrease, and we say, 'Oh, that's high-deductible plans,'" said Dr. Lisa Harris, CEO of Eskenazi Health. "I think it's all purely a matter of speculation at this point. We need more time to study it."
Harris suspects that much of Eskenazi's recent decline in ER use stems from the opening one year ago of a large health clinic on West 38th Street.
Eskenazi also implemented an open-access policy in March allowing patients to get same-day primary care appointments. That has cut the huge numbers of no-shows for scheduled appointments, freeing Eskenazi doctors and nurses to whittle waiting lists at outpatient facilities.
Harris
Community has been trying a similar strategy, but with less success. Since 2009, it has partnered to open nine Jane Pauley Community Health Centers on the east side. The outpatient clinics now see 36,000 patients per year, up from 2,500 in the first year.
Also, in 2011, Community opened a MedCheck urgent care clinic on the east side to handle needs that do not require a full emergency room. Moreover, Community promises patients they can get a primary care appointment within 48 hours of calling.
But it has hardly slowed ER visits. By the end of this year, visits will have grown 31 percent since 2009—the year before Obamacare passed.
Community East saw big increases in 2012 and 2013, after Franciscan St. Francis Health closed its Beech Grove hospital just six miles away. Teffeteller said Community East started getting 30 to 40 extra ER visits per day after the closing.
"More patients came than what we thought," he said.
So this year, Community East has started what it calls a Patient Resource Center. Now, when patients come to the ER, Community has a social worker or case manager talk to them about the Jane Pauley centers or its MedCheck facility, or to actually make an appointment with a Community doctor or nurse. They also help patients sign up for health insurance or Medicaid, if they aren't.
"We're trying to really educate our patients," Teffeteller said. "We really want to change people's minds about where they can go for care."•
Please enable JavaScript to view this content.