One of Rick Fuson's most memorable moments in his 30 years with the Indiana Pacers was also one of the scariest.
Late in a home game against the New York Knicks in the 1994 playoffs, Donnie Walsh, then the team's president, asked Fuson to escort actor and movie director Spike Lee safely out of Market Square Arena.
The arena was extra loud that night, and Lee and Pacers fans had been going at it all game. As the Pacers secured the game late, courtside fans near Lee became more boisterous.
"Market Square Arena was just unbelievable. Single bowl, everybody was on top of you, just crazy," Fuson recalled.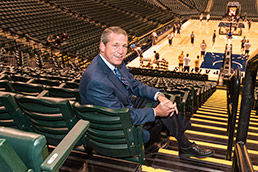 Rick Fuson has spent 30 years with the Pacers organization. (IBJ photo/Eric Learned)
With 15 seconds to go, Fuson made his move.
"I grabbed the biggest security guard I could find," he recalled, and quickly ushered the diminutive Lee out.
It's that sort of dependability—in a wide range of roles with the team—that spurred Pacers Sports & Entertainment President Jim Morris earlier this year to recommend to owner Herb Simon that Fuson become his successor.
On Sept. 30, Simon made it official, promoting Fuson, 61, chief operating officer, to president. Morris, 71, will remain with the team as vice chairman and maintain a Bankers Life Fieldhouse office adjacent to Fuson's. Larry Bird will remain as president of basketball operations.
Walsh, now an adviser to the Pacers, said Fuson is up to the assignment.
"He's the type of guy—if you give him a job, even a really tough one—he'll never let you down," Walsh said.
'He's a fixer'
Fuson, the son of longtime Indianapolis News sports scribe and editor Wayne Fuson, has come a long way since his 20s, when he made a living mowing lawns and selling bulldozers.
His daughter, Hamilton County Council member Amy Massillamany, isn't surprised.
"He's a fixer," she said. "He's the kind of guy that just knows where he's needed and what to do. He knows how to keep it together in a crisis."
Despite his executive status, Fuson is as likely to be found checking light bulbs or pushing a broom inside the cavernous fieldhouse as sitting behind a desk or in a boardroom.
"He always told me, 'We're behind-the-scenes people,'" Massillamany said. "He's not flashy, and that's the way he likes it. He told me it's about having an attitude of public service. I've never forgotten that."
In his new role, Fuson will be learning to step away from the broom and light bulbs and look at the bigger picture.
"Over the years, I was probably more of a micromanager than I ever should have been," Fuson said. "Jim Morris always says we need to spend more time strategizing rather than just doing, and that comes along with this job."
In his long tenure, Fuson has primarily been known as the man in charge of the building where the Pacers played. As he became more involved in things like marketing, promotions and event execution, he was promoted in 2001 to executive senior vice president. In 2008, he was named COO, a title he'll continue to hold.
The biggest immediate challenge Fuson will face is drawing fans this season amid the uncertainties of losing starting forward Lance Stephenson to free agency and all-star Paul George to injury.
That's nothing compared to what Fuson has seen since joining the Pacers in 1984.
He managed the cramped confines of MSA and oversaw the team's move to the roomy-but-expensive-to-operate fieldhouse. He's been through the fallout of the brawl in Detroit and the recent financial crunch that prompted Pacers' officials to ask the city for tens of millions of dollars to help operate the fieldhouse, which is about three times the size of MSA.
His first role was to oversee hosting the 1985 NBA all-star game at the RCA Dome. It was the first, and only, time the city has hosted the event.
The game drew more than 45,000 fans, a record. Pacers owners Herb and Mel Simon, who bought the team in 1983, then put Fuson in charge of building operations.
Wide influence
He also began to make his mark more widely. In 1987, when Caracas bailed out of hosting the Pan Am Games, Indianapolis jumped in, and Fuson was instrumental in producing the closing ceremonies.
He was a key part of the city's effort to host the World Gymnastics Championships at MSA in 1991 and swimming's World Indoor Short-Course Championships at the fieldhouse in 2004.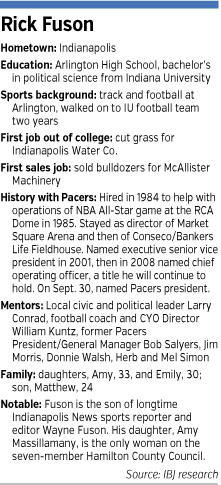 Fuson also co-chaired the committee that produced the Super Bowl Village in 2012. That was such a hit that similar attractions are now a requirement for any Super Bowl host city.
"He has a national reputation for his management skills in running a venue and managing an event," said Indiana Sports Corp. CEO Allison Melangton, who was CEO of the city's Super Bowl Host Committee. "He's known not just throughout the NBA, but—because of his other work in this community—in the NFL and larger Olympic circles. He's known as a problem-solver at all levels."
Indiana University Athletic Director Fred Glass called Fuson "one of the great unsung heroes in the story of the renaissance of the city of Indianapolis."
Glass credits Fuson and the Pacers with wresting away the Big Ten men's basketball championships from Chicago.
"Most people don't realize what a coup that was," said Glass, who served as the city's Capital Improvement Board president under Democratic Mayor Bart Peterson. "Because Chicago's arena is so much bigger than ours and because there are so many Big Ten alumni there, we were really swimming upstream."
Despite his accomplishments, Fuson said he never stops questioning himself.
"If you ever think you're so perfect that you don't have some hesitancy about your own self, I wonder whether or not that's the right way to think," he said.
Plenty to work on
The Pacers have seen attendance climb steadily over the last three years, and the new NBA television deal signed this month with ESPN and Turner Broadcasting could substantially increase the team's fortunes.
But Fuson said nothing should be taken for granted.
"We have to continue to challenge ourselves to find great reasons, great ways, to pull people out of their homes and out of their neighborhoods to come downtown to see live sporting events," he said.
In April, CIB, which owns the fieldhouse, unanimously approved a 10-year, $160 million deal to subsidize operations of the 18,165-seat venue. Fuson, who is equally affable with Democrats and Republicans, was a key lobbyist for those funds.
"In small markets … it's important for governments to be involved in their buildings," Fuson said. "The economic impact from that far outweighs the expenditures made on an annual basis. I believe our company has been a great steward of this building and the funds that come to operate this building."
Fuson promised to continue to be "very prudent" with the city's money.
"Our company is about winning championships and giving to the community," Fuson said. "We can't just take. We have to give back."
Fuson said that philosophy has been drilled into Pacers employees since the Simons bought the team.
"That's how we've been trained, and that's how it's in our blood," he said.
Wayne's world
Fuson owes his start with the Pacers to his late father, who worked for the Indianapolis News for 48 years, ascending to sports editor. Wayne Fuson, who died in 1996 at age 71, was as well known as any sports reporter in town and gained the trust of numerous sources.
Rick Fuson said he inherited a "love of Indianapolis" from his parents. Wayne Fuson came here in 1948 from Terre Haute to work for the News.
"They also showed me what an important role sports could play in the growth of this city," he said.
Among Wayne Fuson's friends and allies were Morris, Bob Salyers—Pacers president and general manager from 1981 to 1986, and the Simon brothers.
"My break came because of my father's relationships with people in our town, and I got my foot in the door. And once that happened, hopefully I've proven over the years that hard work and dedication to the cause is what's allowed me to be able to go where I've been," Fuson said.
He started his career a long way from the glamour of professional sports. After graduating from Arlington High School, where he lettered in football and track, and earning a political science degree from Indiana University in 1975, Fuson took a job cutting grass with the Indiana Water Co.
"That was during some difficult economic times," Fuson said.
New opportunities
But his stint at the water company didn't last long. Later that year, he landed a job studying privatization—as part of a Lilly Endowment grant—for the Institute of Local Self Government in California. After a year on the West Coast, he returned to Indiana and took a job selling bulldozers out of West Lafayette for McAllister Machinery.
Fuson said the sales and marketing experience he gained during his eight-plus years with McAllister, where he worked with customers ranging from bulldozer operators to the CEO of Alcoa, was invaluable.
"People are people, whether they're driving a bulldozer or are a high-level executive," he said. "They all have value and they all have something they can teach you. That experience gave me great heart about my heritage in Indiana. I saw that it takes all of us to make this state work."
The announcement of Fuson's promotion came on the 18th anniversary of the death of his father, who worked until the day he died.
Fuson isn't sure he wants to follow that path.
Massillamany said that, as a child, she watched her dad work 80-hour weeks. Recently, he bought a cabin along Greasy Creek in Brown County where, she said, "He's learned to relax."
But retirement? Not likely anytime soon. Fuson said he hasn't given it any thought.
"He's a doer. It's in his DNA," Massillamany said. "He'll be a doer until he can't do anymore."•
Please enable JavaScript to view this content.