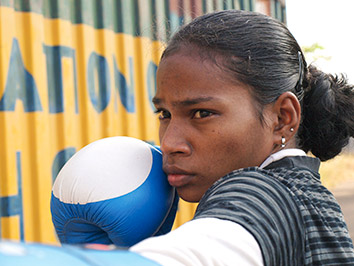 This year's Heartland Film Festival (Oct. 16-25) already received a burst of attention when Robert Downey Jr. made an appearance at a pre-fest screening of his film "The Judge." But a film festival is primarily about films you won't be seeing at a theater near you, so I try each year to shine some attention on Heartland offerings with less star wattage.
I screened perhaps a sixth of the more than 130 entries. With some films unavailable and with me having only one set of eyes, the recommendations below should be taken as a starter list, not a definitive best-of.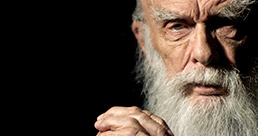 James Randi, the focus of "An Honest Liar," has made a career out of debunking pseudo-science and paranormal claims. (Photos courtesy of Heartland Film Festival)
The first needs a disclaimer: James Randi is a hero of mine. A magician who parlayed his skills as an illusionist into serving as a trumpet for sane thinking, The Amazing Randi has debunked phony faith healers, crystal-selling spoon benders, and even scientists who claim to find evidence of the paranormal. "An Honest Liar" effectively recounts these adventures but also goes further, as secrets in Randi's life—and his own ability to be deceived—come to light. I had a chance to thank the man for his work when he appeared at Indianapolis' late-lamented Wordstruck festival. I'm even more amazed by him now.
In "Light Fly, Fly High," a young woman hopes boxing will help her rise out of poverty.
"Light Fly, Fly High" begins as a heartfelt but familiar documentary about a young woman in India who sees boxing as a way out of poverty. But her courage and fortitude get tested outside the ring as well, resulting in a film that's much more than just another sports story.
Sometimes, a festival film's pleasures come from seeing familiar stories told with less-familiar characters. Case in point: "Amira and Sam." Many a Hollywood film features a seemingly mismatched duo who find common ground and link romantically. But here, the guy is an army vet having trouble reconnecting stateside and she's an Iraqi immigrant facing deportation. In "East Side Sushi," the main character is Juana, a single mother struggling to keep her head above water who becomes enamored with the world of Japanese cooking. Can a Latina make it in the world of "authentic" sushi making? There's little in the way of surprises, but I was rooting for Juana … and hungry afterward for her signature sushi creation.
Harder hitting is "Drunktown's Finest," in which the seemingly separate lives of a trio of Native American characters—a battling drinker heading into military service, an adoptee looking to reunite with her birth parents, and a trick-turning transsexual—collide. The even tone of the film adds to its mystery, keeping viewers unsure where it's going. In a world of spoiler previews, that's refreshing.
Those who work in theater should consider "Holbrook/Twain: An American Odyssey" mandatory viewing. Others should be fascinated and moved as well by this look into the life of Hal Holbrook, who has been performing his ever-changing, one-man Mark Twain show for six decades.
"Showfolk," a documentary short, might not have the focus the Holbrook film does, but it does joyfully celebrate the lives of retirees living at the Motion Picture & Television Fund home in California. I wanted to adopt every one of them as grandparents.
Additional strong shorts include "German Shepherd." It creatively animates an excerpt of an interview with the son of a Holocaust survivor trying to balance the past and the future. Sharp, but I wanted a bit more. If you can ignore the pedestrian animation and borderline condescending structure, "Listening is an Act of Love" movingly tells a wonderful set of brief tales collected by StoryCorps.
My favorite film of the lot clocks in at just five minutes. The animated "Yearbook" concerns a man tasked with creating the definitive guide to human civilization while keeping a 17-year secret that the world is going to blow up. A more perfect combination of smart, heartfelt storytelling and non-show-off-y cinematic style you are unlikely to see.
For a full festival schedule, visit www.heartlandfilm.org/festival. And let me know if you found any other gems.•
__________
This column appears weekly. Send information on upcoming arts & entertainment events to lharry@ibj.com.
Please enable JavaScript to view this content.