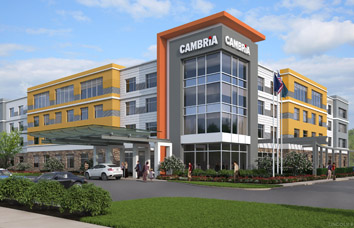 A Cleveland-based development group on Wednesday announced plans to build a Cambria Suites hotel along 186th Street across from Westfield's Grand Park Sports Campus.
The $17 million project, expected to break ground next spring, is welcome news in a community that has drawn more than 830,000 visitors to its youth-sports megaplex since it opened this year.
Westfield has just one hotel now: a Rodeway Inn & Suites off 151st Street near Village Park Plaza. Like Cambria Suites, it is part of the national Choice Hotels brand.
The 150-room Westfield Cambria Suites is being planned with 5,000 square feet of meeting space to accommodate both business travelers and teams playing at Grand Park, said David Crisafi, president of Ceres Enterprises LLC. Ceres is developing the hotel in a joint venture with The Orlean Company.
Established about six years ago, Cambria Suites offers an upscale, European "boutique" feel, Crisafi said. The same developers also built a Cambria near Hamilton Town Center in Noblesville.
The three-story Westfield design, which includes corner "tower" suites and an in-house restaurant with outdoor dining, is a prototype of sorts for the next generation of Cambrias, he said.
Details will be fine-tuned as the project makes its way through the city's planning process, but Crisafi said the hotel will blend in with its neighbors. The Wellbrooke of Westfield health and wellness center next door opened last year in the Grand Park Village commercial area, and a pair of 17,000-square-foot retail buildings are in the works.
Westfield invested more than $45 million to build the 400-acre sports park as an economic development play, hoping to draw the ancillary development that is beginning to take shape nearby.
Mayor Andy Cook said representatives of restaurants, shops and entertainment venues have expressed interest in being near Grand Park sports fields, but visitors still need someplace to stay.
This year, they stayed in hotels in Hamilton County, Indianapolis, Lebanon, Kokomo and Anderson, he said.
"This is a huge day for us," Cook said. "We're doubling the number of hotels in Westfield."
The Cambria developers hope to begin the year-long construction project in March so the hotel will be open in time for the 2016 summer season.
"The [hotel] market is heating up," said Karen Radcliff, deputy director of destination-marketing agency Hamilton County Tourism Inc. "Kudos to Westfield for going after their fair share of the market."
Please enable JavaScript to view this content.