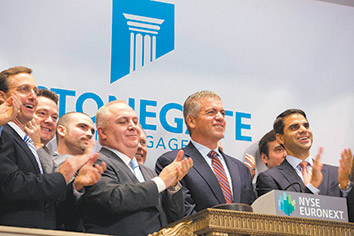 On the morning of Tuesday, Oct. 6, Stonegate Mortgage CEO Jim Cutillo blasted an email to his 1,300 employees across the country.
The email referenced a news article about Google executives demanding their emails be returned by employees quickly. The bottom line: Be responsive, especially to customers.
Cutillo wanted to see how many people would take heed and actually respond to him. It wasn't many, he noted at a Stonegate awards banquet that evening, and he wasn't happy about it.
"I'm really disappointed because at last count we had about 1,300 people in the company and less than 10 percent responded," he told about 140 employees in a Sheraton ballroom. "That's pretty sad. And I guarantee you that there are some people who haven't even opened their email yet. But they were employed by us and they were paid by us to work eight hours today. That's not the kind of company we want to be."
Cutillo won't apologize for being demanding, and he doesn't mince words. He has this thing about what he calls "obsessive attention to details that matter," and he loathes carelessness.
That intensity may explain how Cutillo was able to start Stonegate in 2005, keep it afloat during the financial crisis and build it into the country's 17th-largest mortgage originator in a field of more than 7,000, as measured by industry publication Inside Mortgage Finance.
His drive may be rooted in his early exposure to the hustle and grind of running an Italian restaurant in Pottstown on the outskirts of Philadelphia. Or it could stem from his Army stint.
No matter the cause, Cutillo has no interest in relaxing his style anytime soon as he strives to build a national company with a strong, enduring brand.
"Look, this is a defined culture," he said in an interview. "You don't work here unless you can demonstrate your ability to meet or exceed these standards that we've actually set."
Stonegate originates, finances and services residential mortgage loans, and it went public in October 2013. Like many of its peers, Stonegate's stock price has declined since the start of 2014, from roughly $16 a share to about $13.
With a market capitalization of about $323 million, Stonegate is not as big as multi-billion-dollar non-bank mortgage companies Nationstar Mortgage Holdings Inc. and Ocwen Financial Corp. But its origination activity, a key metric in the industry, has been impressive lately.
Inside Mortgage Finance said Stonegate originated about $5.7 billion in loans for the first half of 2014—No. 17 among all mortgage companies and No. 9 among the few thousand of those that aren't banks.
"They're a significant player," said Publisher Guy Cecala, adding that Stonegate grew loan originations as the overall segment contracted.
Cutillo and his wife, Barb, started Stonegate in 2005. Its employee count has doubled from the 650 it had last October. It's made a profit every year since 2008, and reported earnings last year of $22.6 million on revenue of $157.9 million.
"Often, when I see companies that are growing phenomenally quickly, I'm suspect, thinking something's wrong here," said John Reed, a City Securities Corp. investment banker who met the "high-energy, straight-shooting" Cutillo around 2012.
"And there might be, but I haven't seen it."
Restaurant roots
Cutillo, 46, says his earliest memories trace to the restaurant his grandparents started in 1948. It's still in business. He washed dishes, bussed tables and more before heading to college.
"I watched my grandfather build that every day, working tirelessly 24/7/365," Cutillo said. "What I've learned along the way is that you have to be passionate about the business you're in."
Cutillo studied finance at IUPUI, but didn't finish. At the time he was enlisted in the Army and pursuing his degree through a special program. He was commissioned as an officer in 1991 and was a few classes short of graduating, he said.
On at least one occasion, Bob Knight, the former IU basketball coach known for his hard-driving tactics, spoke to Cutillo's ROTC group. Cutillo recalls Knight telling the class, "Don't be fooled. Any parent who sends their kids here to play basketball for me knows how I operate and knows who I am. So the fact that I may throw chairs or act crazy, they know that, and they want that."
Cutillo said he spends about half his time crafting culture at Stonegate, and his Army days show up in the process. Lisa Rogers, an executive vice president, said Cutillo frequently references "ringing the bell" at military training camps, which signifies surrendering because the training is too difficult.
"Jim says all the time: 'Don't ever ring the bell. We'll never ring the bell. We'll never quit. If one thing didn't work, we're going to try another. But don't ever ring the bell,'" she said.
As he did with the Google article, Cutillo commonly shares stories of business strategies or inspiration with employees, Rogers and others say. He frequently talks about distinction, referencing companies like Disney, Apple and Nordstrom.
He said he wants to know about the mistakes that happen at Stonegate so they can be corrected. It makes his blood boil, he said, when employees don't pay attention to details that matter. He has no qualms about "over managing," he said, which is not to be confused with micromanaging. His toughness and directness, he said, shouldn't be a surprise.
Cutillo has no problem telling people who disagree with him to work somewhere else.
"People who come here already know who I am," he said.
Long-term goals
Building a business that can survive and thrive long term is a top priority, Cutillo said. He said that when industry peers have lowered the bar on its FICO score requirements, he opted not to. (Inside Mortgage Finance said the average FICO score for Stonegate's agency, or government-related loans, was 719 as of June 30.
His desire for sustainability may have been the impetus for launching Stonegate, his first startup. He held various financial sector jobs in the 1990s, and in 2002 found himself at GMAC Residential Funding. That company, which ultimately went through bankruptcy as GMAC Res Cap, was one of the largest lenders of sub-prime loans widely blamed for sparking the financial crisis.
Cutillo said he was only involved in those loans post-close. Nevertheless, he saw the practice as unsustainable. "From my perspective, it wasn't responsible."
He's gotten wide acclaim for leaving GMAC to launch Stonegate about three years before the economic downturn. By the time the recovery started and banks had largely fled the industry, Stonegate had a solid foundation. But Cutillo said he hasn't rested on laurels.
He already has posted Stonegate stakes in 46 states, and Alaska, Hawaii, Massachusetts and New York are in his sights. He said he's trying to bring service innovations like 24-hour call centers to a largely commoditized industry. And, even after numerous acquisitions, he's aiming to position Stonegate as a leading mortgage aggregator.
Intensity all around
Cutillo enjoys big family gatherings, his wife and others say, prefers blue suits and probably has Dave Matthews playing if he's wearing ear buds. He's usually up around 5:30 a.m. and in bed by 10 p.m. He exercises to decompress.
He has four children, ages 13 to 21, two with Barb Cutillo, whom he met on a blind date in 1996. "[My hairdresser] gave him my business card on April Fool's Day," she said, "and he thought it was a joke."
He called anyway.
Cutillo plays golf when he can, and jokes about playing on the PGA tour one day. For now, business is almost always on his mind. Thinking about long-term strategies and adapting in a volatile sector keeps him up some nights, he said. The closest thing to a real vacation from work came this summer at Yosemite National Park, when his iPhone couldn't pick up cell phone signals.
Steve Landes, Stonegate's executive vice president of loan origination, said that if Cutillo weren't in the mortgage business, he'd be involved in a startup of another kind.
"I don't think he could get away from the energy that comes from building or growing something," Landes said.
It just so happens he's in the mortgage industry, and Cutillo said it's hardly for the faint of heart. Besides regulatory compliance, "you're subject to the market, interest-rate volatility, housing sales, borrower credit availability—there are so many variables that go into our business that we don't control."
Cutillo said he's not only trying to manage through such challenges, but also build a company that stands out. He said he feels the only way to do that is through culture.
"You cannot compete on product and service and build a sustainable business," he said, one of the many lessons learned from his grandfather's restaurant. "You have to compete on culture and distinction."
Facing down a gale
At the banquet this month, Cutillo also shared insights from a recent executive trip to Disney Institute, the California company's professional development arm. Coming nearly a year after Stonegate's IPO, Cutillo said the company had been so caught up in raising capital that it lost focus on delivering a consistent customer experience.
"Look, I'm never going to ring the bell, so you're kind of stuck with me," he told the crowd. "I'm going to continue to push us to do better and better."
Some of the darkest hours of Cutillo's life came just before taking Stonegate public. On the Sunday before the scheduled IPO, he got a phone call in his room on the 28th floor of the Hilton Garden Inn near Central Park in New York.
It was someone from his investment bank, Bank of America, telling him the IPO wasn't a good idea just yet. The federal government shutdown was dominating the headlines. The VIX stock market volatility index was at or near record highs. Cutillo was told he'd be lucky to get a deal done.
"It was a low point," he said. "I was on an emotional high. So I'm taking the company public, and all of a sudden there's this huge headwind. You could question yourself. You could be nervous. But I had to go out and explain to investors why they needed to go into the mortgage business."
Cutillo had been raising money for 18 months, and this was the home stretch. He was drained, having been interrogated top to bottom by investors wary of an industry that ignited the biggest recession in nearly 80 years. That couldn't go to waste. He told the underwriters he wasn't going home without a deal, whether they were involved or not.
"And we said, you know what, we'll trade the dollars on the front end in price to get the opportunity to be a public company so that we can build the franchise we want to build."
The IPO raised $114 million that Thursday, which was within its target range but not as much as the $156 million officials hoped for. The next day, Cutillo rang the opening bell at the New York Stock Exchange marking the occasion.
It was, he said proudly, the only time he ever rang the bell.•
Please enable JavaScript to view this content.