A Carmel-based firm that serves the financial sector is looking to fill 60 jobs this year and potentially more next year as the firm extends a growth streak.

Officials at Allied Solutions LLC said 50 of the new jobs this year will come in Carmel, and it plans to build out another floor of its namesake office building at 1320 City Center Drive to accommodate the hires. The company employs about 916, including 400 in Carmel, and it's seen its work force double since 2010.

Allied is investing $850,000 on improvements for 21,000 square feet in Carmel. Officials said no economic development incentives are attached to the hiring.

"Our growth has primarily been fueled by our brand recognition," President Pete Hilger said of Allied, which serves about 4,000 banks and credit unions across the country.


Pete Hilger
Allied roots date to the late 1970s, but growth has been on the fast track in recent years partly because of big new clients, acquisitions and financial industry trends.

The company is a third-party service provider that sells about 75 products or services in areas including insurance, lending and communications.

It's the company behind extended warranties a bank or credit union may offer on an auto loan. It sells a customizable smartphone application to credit unions looking to establish a digital mobile presence. It also tracks millions of auto loans and mortgages to ensure they maintain insurance, notifying the lender and consumer of any lapses.

Most of Allied's products are not proprietary: They were created by smaller companies. Those firms lack Allied's scale and sales force, so Allied has established itself as one of the leading distributors of the financial sector solutions.

"Our core identity has always been to be the company that brings the latest and greatest products to the financial institutions," said Amy Hearn, a vice president of marketing and communications.

The hiring spree, Hearn said, has a lot to do with the firm signing on some larger clients the company didn't disclose, effectively doubling the roughly 2 million loans Allied tracks within the past year.

Another factor has been acquisitions, which have been an enduring part of the firm's history. These have typically been smaller solutions companies in regions of the country or in specialties that piqued Allied's interest.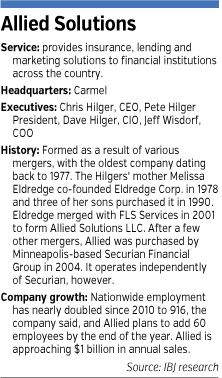 One of the key factors in the company's overall growth has been the demand for solutions from credit unions, which account for 70 percent of Allied's client base.

Historically, Hearn said, credit unions had member restrictions, but federal legislation allowed them to expand their charters. Credit unions that specifically served teachers, for instance, were allowed to serve anyone in their locality.

The result, Hearn said, was a trend of credit unions aggressively competing with banks and looking for solutions to help. The vendors who create the solutions, on the other hand, look to get their products out there.

"We get pitched a lot of products," Hearn said.
Hilger's mother, Melissa Eldredge, co-founded Eldredge Corp. in 1978, and Hilger and his two brothers purchased it in 1990. Eldredge merged with FLS Services in 2001 to form Allied Solutions LLC. After a few other mergers, Allied was purchased in 2004 by Minneapolis-based Securian Financial Group. It operates independently of Securian, however.

The company is approaching $1 billion in sales. But as a distributor, it only sees about $160 million of that as its own revenue, Hilger said. Both numbers are projected to increase.

Most of Allied's job openings are in operations and call centers, and the company is considering those with at least high school diplomas and GEDs. Hilger said most of the growth will be in Carmel.

The company has a client footprint in most U.S. regions, and operation centers in Dakota Dunes, South Dakota; and Plano, Texas. Hilger said the company has no intention of moving its Indiana headquarters.

"It's a fantastic community … and it's a good environment and culture for what we do," he said.•

__________

Behind the News will return next week.