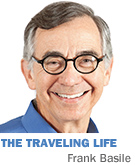 One of my articles last year described several unexpected sights and experiences that Katrina and I had in Las Vegas. My suggestion, then and now: Keep an open mind when traveling and actively seek out the unusual, even in the usual destinations.
Over the past year, we tried to stay true to that credo and made some fun discoveries.
In Nashville, after you have seen the Country Music Hall of Fame, the Grand Ole Opry and the honkytonks along Broadway, treat yourself to a tour of the Parthenon, which is the only full-size replica of the famous structure in Athens, Greece (Movie buffs may remember it's prominent role in Robert Altman's movie "Nashville").
Another worthwhile stop that those visiting just for music may overlook is the Hermitage, home of President Andrew Jackson. You can tour his home and the museum commemorating his life and his years as a celebrated general (including the famed Battle of New Orleans in which he defeated the British) and as the first liberal President. I couldn't help recalling the great Phoenix Theatre musical production, "Bloody Bloody Andrew Jackson," which offered a more cynical take on Jackson.
In Dallas, we again toured the JFK assassination spot and related museum. And, yes, we visited South Fork, the site of the old (and new) "Dallas" TV series.
But this time we also journeyed to see the new state-of-the-art George W. Bush Presidential Library and Museum, which includes a full-sized Oval Office, a Texas Rose Garden, and a piece of steel from the World Trade Center. The display also includes the bullhorn the President used to address first responders at Ground Zero.
In downtown Dallas, we came upon what is reputed to be the largest bronze monument in the world, consisting of sculptures of 70 six-foot steers and three trail riders with a backdrop of a ridge, a limestone cliff, native landscaping, a flowing stream and a waterfall. This Texas size scene was conceived and brought to fruition by the legendary real estate developer Trammel Crow, who in the early 1990s wanted to install something to commemorate the Western heritage of the city.
In neighboring Fort Worth, we happened upon Razzoo's Cajun Café, where we stopped in for a lunch of gumbo, red beans and rice and a po boy sandwich. Being a New Orleans native, I felt qualified to proclaim this to be fine Cajun cooking. To make the experience even more genuine, we were surrounded by all things New Orleans, including Mardi Gras beads, masks and other stuff. Down the street was another treat: the Sid Richardson Museum, which features fabulous Western art.
New York City's High Line Park is no secret. But the wonderful re-use of abandoned elevated railroad tracks—converting it into a three-mile park that revitalized that area of Manhattan—is even more special when we know that Diller Scofidio + Renfro, who designed High Line Park also crafted the Commonground right here at Eskenazi Health.
And here's hoping some adventurous tourist visiting Indianapolis will go beyond the Speedway and our wonderful museums and check out the Commonground and some of our lower-profile attractions. I think they'll be pleasantly suprised.•
__________
Basile is an author, professional speaker, philanthropist, community volunteer and retired executive of the Gene B. Glick Co. He can be reached at Frank_Basile@sbcglobal.net.
Please enable JavaScript to view this content.