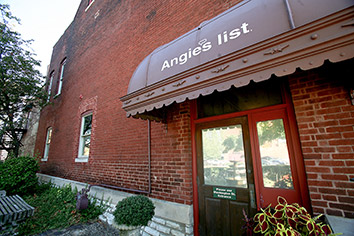 Angie's List Inc. shares fell 18 percent on Wednesday morning after the company reported another quarterly loss and failed to meet Wall Street expectations.
The Indianapolis-based consumer-review company said Wednesday morning that it lost $5.2 million, or 9 cents per share, in the third quarter ended Sept. 30, compared with a loss of $13.5 million, or 23 cents per share, for the same quarter a year ago.
The loss, adjusted to extinguish debt, came to 8 cents per share, which fell short of Wall Street expectations. The average estimate of analysts surveyed by Zacks Investment Research was for a loss of 5 cents per share.
Revenue rose to $81.3 million in the period—up 24 percent from the year-ago period—slightly missing analyst expectations of $81.7 million, according to Zacks.
Shares had lost $1.52 in trading late Wednesday morning, selling around noon for $6.76.
Shares are down about 56 percent over the last 52 weeks, and Wednesday's report effectively negated a bump in the stock price that came after a report that the company was exploring the possibility of a sale.
On an earnings call with analysts on Wednesday, executives declined to comment on questions related to a sale. In a research note earlier this week, Wunderlich Securities analyst Blake Harper said, "Rumors of the company getting acquired may have merit, even with the company moving ahead with its headquarters expansion plans."
Last week, the company announced that it intended to spend about $40 million to expand its headquarters campus on the east side of downtown and create about 1,000 new jobs with the help of more than $25 million in state and city incentives.
Angie's List has yet to turn an annual profit since going public in November 2011. Although it has reported quarter-over-quarter revenue gains for at least the past six quarters, expenses have repeatedly outpaced revenue. Its only quarterly profit over that period came in the fourth quarter of 2013.
The narrower loss in the most recent quarter was driven in part by reduced marketing expenses, which fell 20 percent from the year ago period, to about $22 million.
Reduced marketing expenses in the third quarter improved the company's marketing-cost-per-paid-member efficiency, which fell from $76 per member last year to $64 per member this year.
In the wake of laying off 97 salespeople in August, company officials also said Wednesday that they're continuing to reconfigure their sales force into one aligned around industry verticals like plumbing and pest control, instead of geographical markets.
CEO Bill Oesterle said the company had 1,130 sales people in the most recent quarter, including 860 for originations and 270 for renewals.
The company is still looking for meaningful returns on its e-commerce strategy, which allows service providers to establish virtual storefronts through Angie's List for product sales. E-commerce revenue grew 9 percent, to $7 million, in the third quarter.
 
Please enable JavaScript to view this content.