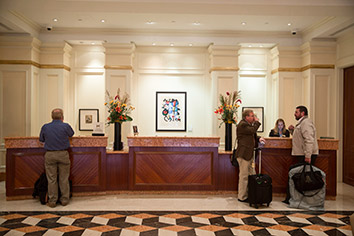 The first thing Greg Tinsley does each morning—often before he gets into the office or even gets dressed for work—is look at customer feedback from TripAdvisor. The travel website has seen an explosion of consumer-generated reviews and page views in the last two years.
His new routine signifies a "paradigm shift" in the entire hospitality industry, said Tinsley, general manager of Conrad Indianapolis and a 30-year hospitality veteran.

Gahl
He said most hotel operators have gone from merely looking at the bottom line each day to looking at factors driving that bottom line. Several local hoteliers contacted by IBJ said they have a similar morning routine of checking and responding to comments on TripAdvisor.
"Not too long ago, the first thing I'd look at in the morning would be the revenue report and production analysis," Tinsley said. "Now, the first thing I want to look at is customer response, because I know that advances in technology allow me to look at that in real time."
Gone are the days when a hotel's biggest ratings concern was whether an undercover reviewer was going to come in from Forbes Travel Guide—which has the star rating system—or AAA—which uses diamonds.
Tinsley is so driven by TripAdvisor feedback that he often catches up with visitors posting comments about the Conrad before they check out.
"Conrad Indianapolis is a high-class hotel, one that many consider a five-star hotel, one of the very best in Indianapolis. And one of their chief concerns is TripAdvisor," said Liping Cai, director of Purdue University's Tourism & Hospitality Research Center. "That shows the power of this site."
Of eight Indianapolis general managers or hotel operators IBJ contacted, all said they monitor TripAdvisor daily.
"TripAdvisor is a top priority, first thing in the morning, seven days a week," said Dale McCarty, general manager of the Westin Indianapolis.

Tinsley
The vast majority of upscale hotels—including almost all the ones in downtown Indianapolis—have a policy of responding to comments within 24 hours. Many hotels, in addition to the general manager, have dedicated staff monitoring the site.
Stunning statistics
There's good reason for all the attention.
TripAdvisor provides reviews of various forms of lodging, and also attractions and restaurants. It was an early gatherer of free user-generated content and now includes millions of travelers' comments and photos.
Nearly 280 million travelers use TripAdvisor each month, according to Media Metrix, a Virginia-based Internet measurement firm. An astounding three-fourths of all travelers now use TripAdvisor before booking a hotel, according to a recent independent survey conducted by PhoCusWright, a well-known Connecticut-based travel research firm.
According to TripAdvisor officials, the site gets 100 submissions every minute. In total, the site has posted more than 170 million reviews and comments. Local hoteliers report seeing two to six comments about their establishment posted every day.
While TripAdvisor has competition in the restaurant segment—notably Yelp—hoteliers say it's the 800-pound gorilla in the lodging segment.
Studies completed by Cornell University and the University of Michigan show what a profound effect the site can have on a hotel's bottom line.
A Cornell Hospitality Research Center study in late 2012 showed that, by increasing its overall rating one point on TripAdvisor, a hotel could increase its room rate 11.2 percent without lowering occupancy. A 2013 University of Michigan study showed that hotels that increased their TripAdvisor rating one point could increase average daily room rate $10.
If a hotelier responds to more than half its reviews, it increases booking inquiries 24 percent, according to the PhoCusWright study.
Mass marketing boost
Though TripAdvisor, which was launched in 2000, has been gaining steam for years, local hoteliers said its popularity—and consequently their monitoring of it—dramatically increased after the company went public in late 2011 and increased its marketing and profile.
Before TripAdvisor exploded, about the only way hotel operators heard from guests was through written comment cards. But local operators said only about one in 20 guests filled those out, and fewer than one in 10 left any kind of feedback—via comment card, email, phone or in person.
Now, local hoteliers report as many as one in four guests leaves a comment through TripAdvisor. The number of people looking at—and relying on—those comments to make booking decisions, McCarty said, "is staggering."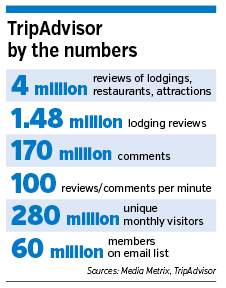 "In the last 24 months, it's become one of the more powerful evolutions in our industry," Tinsley said. "Since the audience is uncapped, the kind of exposure you get from TripAdvisor is phenomenal."
Fading stars?
TripAdvisor's power has somewhat muted that of the decades-old star or diamond rating systems, said Jim Dora Jr., CEO of General Hotels Corp., which owns 11 Indiana hotels including Crowne Plazas downtown and at the airport.
"The channels of information have changed," Dora said. "When travelers want to verify the quality of a hotel now, they often turn to TripAdvisor."
While the star and diamond rating systems—weighted on a one-to-five scale—still have their place, TripAdvisor's rating "gets to a more granular level," said Mark Eble, Midwest regional vice president for San Francisco-based PKF Hospitality Research.
"The complaints I get about the star and diamond systems is that they're driven by a pretty opaque decision-making process to travelers, and the spectrum of those ratings is just too broad."
Debbie Locklear, president and owner of locally based Meeting Services Unlimited Inc., which handles several large national trade shows, said many large meeting planners still rely on the rating services—along with input from convention and visitors bureaus. But she said many planners of smaller meetings rely on TripAdvisor.
A need to respond
Hotels aren't the only corporate interests monitoring TripAdvisor. Convention and visitors bureaus also are watching.
Visit Indy, the city's tourism marketing arm, has two employees monitor TripAdvisor and other websites for a combined 20 hours a week.
"Part of our responsibility is to monitor and manage the reputation of the city and our hotels," said Visit Indy Vice President Chris Gahl. "By virtue of its popularity, TripAdvisor helps us gain valuable information."
Gahl said Visit Indy officials respond to site comments and urge their hotel members to do the same on a weekly, if not daily, basis.
"If you're not monitoring TripAdvisor, you're losing market share. It's as simple as that," Gahl said. "Mounting negative comments, with no response, can have very damaging consequences."
The PhoCusWright study backs that up. Eighty-seven percent of TripAdvisor users agreed that an appropriate management response to a bad review improved their impression of the hotel, while 62 percent said that seeing hotel management responses to reviews made them more likely to book a room at that establishment.
"This isn't smoke and mirrors," said Carolyn Hosna, director of digital marketing for Merrillville-based White Lodging Services Corp., which operates 162 hotels nationwide including the JW Marriott downtown and 10 others in central Indiana. "We know this site is the Goliath in this industry. We know monitoring it and reacting to it pays dividends."
TripAdvisor troubles
Despite its status, TripAdvisor, which was formerly owned by Expedia, has had problems. The site has been criticized for allowing unsubstantiated anonymous reviews about a number of hotels. In addition, about three dozen hotels have been accused of bribing guests to leave positive comments. TripAdvisor officials said a number of those hotels have been blacklisted.
To combat phony reviews, TripAdvisor examines each review before posting it, looking at the IP and email address of the commenter to try to detect suspicious patterns. TripAdvisor users also are allowed to report suspicious comments that are then checked by TripAdvisor officials.
The site, hoteliers insist, is not just about dealing with negative comments.
"We also get a lot of positive feedback through TripAdvisor," the Conrad's Tinsley said. "In that regard, it can be a great marketing tool for us."
Many hotels use praise—which on occasion mentions a hotel staffer by name—as a way to reward workers. Other hotels offer special return deals to positive commenters.
"It can be a great way to build repeat business," said Visit Indy's Gahl. "But most of all, it's about letting your customers and visitors to your city know their voice has been heard."•
Please enable JavaScript to view this content.