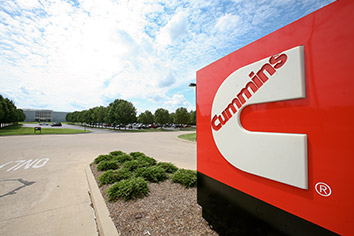 Cummins Inc. said Tuesday that its third-quarter profit jumped 19 percent on stronger sales in North America and abroad.
The Columbus-based manufacturer of heavy-duty engines reported a quarterly profit of $423 million, or $2.32 per share, compared with $355 million, or $1.90 per share, in the same period of 2013.
Revenue rose nearly 15 percent, to $4.89 billion.
Cummins shares surged $6.47, or 4.8 percent, to $141.84 in early trading on Tuesday.
"We delivered strong earnings and cash flow in the third quarter despite facing mixed conditions in international markets," Chairman and CEO Tom Linebarger said in a prepared statement. "Earnings improved in all four of our businesses compared to a year ago."
In its bread-and-butter engine segment, sales rose 13 percent to $2.8 billion. Revenue in both the components and distribution segments hit $1.3 billion, up 20 percent and 37 percent, respectively. Sales in its power-generation segment ticked up 6 percent, to $754 million.
Sales in North America increased 19 percent, and international revenue added 10 percent compared to the third quarter a year ago. Within international markets, stronger demand in Western Europe and China offset weaker sales in Brazil.
With the third quarter in the books, Cummins officials now forecast that the firm's 2014 revenue will be 10- to 12-percent higher than last year, up from its previous forecast of growth of between 8 percent and 11 percent. Cummins earned $1.48 billion on sales of $17.3 billion in 2013.
Cummins currently employs approximately 48,000 people worldwide and serves customers in approximately 190 countries and territories.
Please enable JavaScript to view this content.