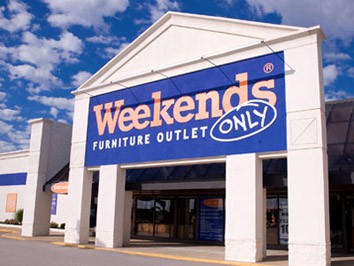 A furniture retailer with five stores in the St. Louis area plans to make its first expansion outside of its home market by opening a store in Castleton.
Weekends Only Furniture Outlet said it is leasing the former Burlington Coat Factory space at 8315 Center Run Drive. Renovations to the 92,000-square-foot building should begin in January to prepare for a late-spring opening.
The retailer said it plans to relocate one of its store general managers and at least one assistant manager to Indianapolis. The new store will employ about 40 workers.
"Opening a store outside the St. Louis market is a significant event in our 17-year history, and we are thrilled that Indianapolis will be our first," Weekends Only CEO Tom Phillips said in a written statement. "I am confident our concept will be well received in Indy."
Weekends Only is the 92nd largest furniture retailer in the country with estimated sales of $54.2 million in 2013, according to Furniture Today magazine. It plans to grow into a top-50 furniture retailer by launching a multimarket expansion that starts with Indianapolis.
The company is considering a second location in Indianapolis and projects the city to eventually become a $30 million to $40 million market. The second local store should be open by spring 2016, Phillips said.
Phillips told Furniture Today that he expects the Castleton store to bring in $10 million to $12 million in sales in its first year.
The retailer will also consider other markets that are within a day's drive of its St. Louis distribution facility.
Weekends Only offers a different shopping experience than competitors such as Kittle's Furniture, The RoomPlace and Value City Furniture. The store is open only on Fridays, Saturdays and Sundays. It uses the rest of the week to refresh inventory.
The retailer carries mid-priced furniture, but it frequently offers special buys, overstock items and truckload purchases at discounts.
"We offer closeouts, brand names and a thrill-of-the-hunt consumer shopping experience," said Weekends Only Vice President of Merchandising Jane Roberts in a written statement. "We are passionate about saving our customers money."
The Burlington space, which is just east of Castleton Square mall, has been vacant since 2012, when the store moved to Castleton Crossing at the northeast corner of 82nd Street and Allisonville Road.
Local real estate brokers said filling the long-vacant big box with an established retailer will be a shot in the arm for that area of the Castleton market.
     
 
Please enable JavaScript to view this content.