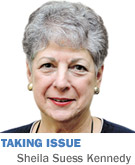 Election Day is Tuesday, Nov. 4. (Why in the world do we hold elections on Tuesdays? Why not weekends? But I digress.)
I don't know about the rest of you, but I will be so happy to see this election cycle fade into history. There is something infinitely dispiriting about watching grown men and women acting like none-too-bright kindergartners—especially when they are asking us to give them responsibility for our collective futures.
Let me share a very few examples.
A week or so ago, Ted Cruz's chief of staff tweeted that "Before ObamaCare, there had never been a case of Ebola in the U.S." (I am not making this up.) I'm not entirely sure, but I don't think we had Google Glass, either. What's that old logical fallacy—post hoc ergo propter hoc?
Louie Gohmert, also from the Great Crazy State of Texas, weighed in with an interview during which he claimed that if gays serve in the military, they will be so busy giving each other massages that America will be unable to repel terrorists. (In all fairness, Louie is an awfully easy target. In a memorable phrase, Charles P. Pierce once wrote that Gohmert is "perhaps the dumbest mammal to enter a legislative chamber since Caligula's horse.")
Texas may boast the largest contingent of not-ready-for-prime-time politicians (evidently, everything is bigger in Texas), but here in the Hoosier State, we are definitely holding our own.
Last month, I moderated a legislative candidate's forum for a local not-for-profit. Only five candidates bothered to participate, and it became evident rather quickly that one of them had missed high school civics. And history. And economics. In her concluding statement, she explained that God had asked her to run so she could increase public services while reducing taxes.
You go, girl.
At least she had never actually been elected. U.S. Rep. Todd Rokita, on the other hand, is one of the 135 members of Congress who continue to deny the settled science confirming global climate change. In a recent interview with the Purdue Exponent, Rokita insisted that claims about global warming are still "under debate," and called the belief in anthropogenic climate change "arrogant," because after all, who are we to think our human activities could change God's climate?
Then there was this.
When asked by a constituent about government subsidies for renewable energy sources like wind and solar, Rokita said that he respects "God's green earth," but that the private market should decide which energy sources receive funding.
I emphatically agree with Rokita about that, and I look forward to his sponsorship of a bill to eliminate the huge and unnecessary subsidies the government provides to fossil-fuel companies. Exxon, et al., can do without them.
I could fill this column with similar examples from both sides of the political aisle.
The problem isn't that we have a few embarrassingly uninformed people; the problem is that our political landscape is positively littered with them, with increasingly grim consequences. They make it impossible for the many hard-working, intelligent and diligent officials (and those folks do still exist) to get anything done. They pander—knowingly or not—to the lowest common denominator of the voting public, impeding civil public debate and efforts to facilitate reasoned discussion.
Worst of all, their prominence—because goofy is admittedly newsworthy—repels reasonable people. It discourages the best and brightest young people from participating in the political process.
We the People need to raise the bar.•
__________
Kennedy is a professor of law and public policy at the School of Public and Environmental Affairs at IUPUI. She blogs regularly at www.sheilakennedy.net. She can be reached at skennedy@ibj.com. Send comments on this column to ibjedit@ibj.com.
 
Please enable JavaScript to view this content.