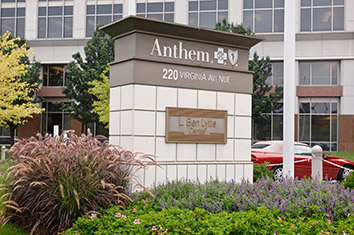 Anthem Blue Cross and Blue Shield is canceling the policies of about 30,000 Hoosiers and asking them to switch over to new health plans that comply with Obamacare's rules.
That change could cause some customers' premiums to spike while at the same time limiting their choices of hospitals and doctors.
For the past few months, the Indianapolis-based health insurer has been sending out notices to holders of individual insurance policies who renewed their coverage before Dec. 31, 2013. Such early renewals allowed Anthem customers to continue coverage under pre-Obamacare rules.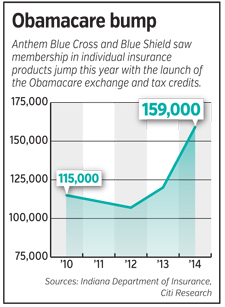 The Obama administration has said these so-called transitional policies can continue until as late as 2016. But an Anthem spokesman said the insurer chose to end them now due to what it perceived as modest demand.
"Because only 25 percent of our individual members renewed early, we made the business decision to not extend these non-compliant plans into 2015," wrote Anthem spokesman Tony Felts in an email.
By contrast, about two-thirds of Anthem's small-employer customers early-renewed their plans in 2013, and Anthem will keep those plans in place for 2015, Felts said.
Another factor, according to health insurance brokers, was that Anthem was struggling to provide customer service to both pre-Obamacare and post-Obamacare plans.
The cancellation of pre-Obamacare policies can lead to a big run-up in premiums—at least for some customers.
Obamacare required all individual insurance policies to cover a list of 10 essential health benefits and to pay for at least 60 percent of all expected medical costs. In addition, Obamacare no longer allows insurers to charge customers more or less based on their health status—other than whether they smoke.
Obamacare also requires insurers to charge their oldest customers no more than three times as much as their youngest customers. Before the law, the oldest customers were often charged five or six times more.
Anthem's premiums for 2015 for its individual Obamacare policies will be on average 50 percent higher than its individual premiums were in 2013.
Tony Nefouse, a local health insurance broker, said most of his clients having their Anthem policies canceled are not eligible for the tax credits Obamacare makes available to low- and moderate-income households. So they are getting hit with premium increases of 15 percent to 20 percent.
"Nobody wants that," Nefouse said. "If you're in that middle class and you don't qualify for tax credits, you have to make some major decisions."
The other big change for customers having their policies canceled is that, if they remain with Anthem, their choice of doctors and hospitals will shrink. Unlike its pre-Obamacare policies, Anthem's Obamacare policies exclude the state's three largest hospital systems—Indiana University Health, St. Vincent Health and Franciscan Alliance—as well as many physicians.
Anthem is by far the state's largest provider of individual insurance policies, which are sold directly to families or individuals, rather than through employers, where the majority of Hoosiers obtain health coverage.
According to filings with the Indiana Department of Insurance, Anthem has about 159,000 individual insurance customers—up nearly one-third from a year ago. About 112,000 of those customers hold Obamacare-compliant plans.
It's not clear how many other insurers are canceling the "transitional" health plans that were early-renewed in 2013.
Minnesota-based UnitedHealthcare said it is moving fewer than 40 policyholders that have "legacy" plans over to Obamacare-compliant plans. But other than that, it is allowing its customers that early-renewed their plans in 2013 to stay on them for 2015.
"We are not canceling anyone's coverage and no one currently covered by a UnitedHealthcare individual and family plan in Indiana is losing their coverage in 2015," wrote UnitedHealthcare spokeswoman Ellen Laden in an email.
A year ago, it encouraged its policyholders to renew early because UnitedHealthcare exited the Indiana individual market for 2014. But now UnitedHealthcare is coming back, offering Obamacare-compliant plans on the Obamacare exchange and off the exchange.
UnitedHealthcare has about 16,000 individual customers, according to its filings with the Indiana Insurance Department.
In addition, New York-based Assurant Inc. said it will allow some of its roughly 12,000 Indiana customers to remain in their pre-Obamacare plans until 2016.
 
Please enable JavaScript to view this content.