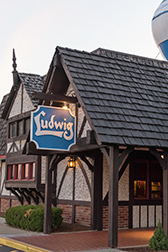 What happens when you attempt to shape a reasonably authentic German restaurant out of a former Steak and Ale? How many fireplaces can one eatery hold? What's the proper level for yodeling music in a restaurant that's not in a theme park? How much Nutella can you fit into a single dessert?
Answers to these and other questions can be found at Ludwig Bavarian Haus (4302 S. East St., 986-4449).
One of the problems with gimmicky architecture is that, even after a business vacates, the building maintains its old identity. Former Roselyn Bakeries around town still look like places where you can pick up a box of zebra squares. So south-siders might well have suspected that the outbuilding at Southern Plaza still housed a Steak and Ale.
Chef/owner Ron Roberts, formerly of Edelweiss, has embraced the physicality of the space, leaving the exterior's distinct multi-peaked roof and the interior's small fireplace-warmed rooms. What's changed is the menu, embracing German classics served up by a friendly staff that, on our visit, was perfectly comfortable abandoning their stations to coo at a customer's baby or gently mock the yodeling coming through the sound system.
We started with a dish of Bavarian Pretzels ($6) and a plate of Kraut Balls ($8). The former arrived appropriately hot, soft and sprinkled—but not doused—with sea salt. Creamy cheese sauce worked for dipping, but the promised spicy German mustard proved in need of more oom-pah-pah. Our waitress informed us that the kitchen didn't concoct anything stronger—but offered to bring out some horseradish if we wanted to jazz it up ourselves. Done. The Kraut Balls—deep-fried orbs packed with ground sausage, sauerkraut and cream cheese, needed no such extra kick. They were a hit all by themselves.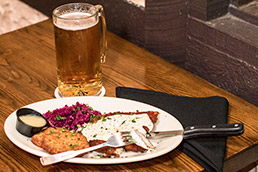 In a former Steak and Ale, Ludwig's offerings include Cordon Bleu Schnitzel. (IBJ Photo/ Eric Learned)
The Cordon Bleu Schnitzel ($18), a breaded center-cut pork loin stuffed with cured ham and topped with Swiss cheese, proved just enough of a twist on the traditional schnitzel to create a fresh treat without taking it too far away from the source. The accompanying Rosemary Cream Sauce was a fitting complement, and ensured that my guest left just as stuffed as the schnitzel.
I opted for the Ludwig Rouladen ($16), thin slices of beef wrapped around bacon, onions, mustard and pickles, then sautéed and braised to create its own gravy. Care was clearly taken in the kitchen, and all the flavors conjoined, but the sauce took a bit too dominant of a position.
Two sides come with every entrée (both can be swapped for a trip to the salad bar). We tried the Potato Pancakes (finding the crunchy-but-giving exterior/soft-but-not-mushy interior sweet spot); Red Cabbage (a little goes a long way—it would have worked better as a taste-portioned accent); a perky and tangy sauerkraut (making kraut fresh makes a big difference); and spaetzle, the traditional German dumplings, which sadly left little impression other than providing some extra carbs.
Speaking of carbs, Ludwig's generous slice of German Chocolate Cake ($8) was a fluffy, gooey, coconutty delight. And a Nutella Strudel ($6) oozed what seemed like an entire jar of the nut butter. For some, that won't be a criticism. Me? I enjoyed the pastry but wished for a little restraint. The recipient of my leftovers that evening, however, raved.•
—Lou Harry
 
Please enable JavaScript to view this content.