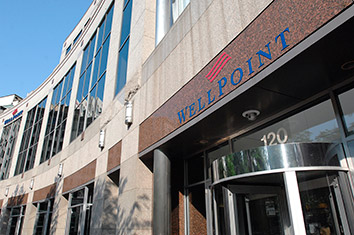 After better-than-expected results in the third quarter, WellPoint's stock price soared to an all-time high of $126.69 at the end of the day Friday.
That's 51.5 percent higher than the close on Sept. 30, 2013—the day before the launch of the Obamacare exchanges, which were created by the Affordable Care Act
That's also the largest stock run-up among the major health insurers, all of which have benefited from Obamacare's mandate for nearly all Americans to obtain health insurance coverage and its tax subsidies for low- and moderate-income buyers.
During the same 13 months, Louisville-based Humana Inc. stock price rose 48.8 percent. Minnesota-based UnitedHealthcare, Philadelphia-based Cigna Corp. and Connecticut-based Aetna Inc. enjoyed bumps of roughly a 30 percent.
Investors have traded up WellPoint stock the most because they feared WellPoint had the most to lose from Obamacare. That's because a large chunk of WellPoint profits historically came from providing health plans to small employers.
Investors feared—correctly—that WellPoint would see a lot of those small employer customers end their group health plans and send their workers to Obamacare exchanges. WellPoint reported last week that in the past year it lost 300,000—16 percent—of its small employer health plan members.
But WellPoint implemented its "catcher's mitt" strategy to pick up even more new customers in the Obamacare exchanges. On Sept. 30, WellPoint had an industry-leading 751,000 exchange customers.
Profits from the exchanges are about half as large as from WellPoint's small group clients.
In Indiana, for example, WellPoint profit from small employers' buying full health insurance averaged 10 percent in 2012, according to analysis by Citi Research. Nationwide, WellPoint profit from small employers averaged 7.3 percent in 2012.
By contrast, WellPoint has said its profits in the Obamacare exchanges are running between 3 percent and 5 percent.
But the transfer from small employers to exchanges has been a small gain for WellPoint, not the disaster many feared.
WellPoint, which was also the largest seller of individual health insurance before Obamacare, has held steady in that lower-profit market as well.
"WellPoint was perceived as the company with the highest exposure to the ACA in light of its dominant franchise in the individual and small group segments. With each quarter, the market has waited for a shoe to drop and the impact to be felt," Barclays Capital analyst Joshua Raskin wrote in an Oct. 30 research report. "After another strong quarter for the third time, we believe that investors can breathe a little easier."
WellPoint has experienced a net gain from Obamacare of 530,000 members, Raskin calculated, including additional enrollees funded by Obamacare in the state Medicaid plans WellPoint administers. That's a modest additional to WellPoint's total health plan membership of 37.5 million, but much better than losing members.
"We are now 10 months into 2014 and the company should have a reasonable handle on the operating results, and nothing points to a problem in the release," Raskin wrote.
Please enable JavaScript to view this content.