For the past 15 years, downtown hotel developers have moved masterfully in lock-step with demand.

But with Indianapolis' convention business showing signs of slowing in 2015 and 2016—right about the time three new hotels are scheduled to open—that streak might crash to a halt.

Since 1998, the number of downtown hotel rooms has grown at an annual rate of 3.5 percent and demand at 3.8 percent, according to San Francisco-based PKF Hospitality Research. Occupancy didn't drop even when the massive JW Marriott and its 1,004 rooms opened in 2011.

But the next two years create a critical challenge for local hoteliers and the city's tourism marketing arm, Visit Indy.

The convention downturn was caused by losing Powersports Dealer Expo and ExactTarget's Connections conference, which combined attracted 20,000-plus for

multiple days, and not landing other targeted conventions. As a result, 2015 and 2016 "are need years for us," said Visit Indy Vice President Chris Gahl.

Dealer Expo left after 2013 for Chicago, while Connections—a high-profile digital-marketing convention—vacated after this year's gathering for New York City.

The coup of snagging the massive Performance Racing Industry Show from Orlando, Florida, in 2013 helped lighten the blow, but it hasn't allayed local hotel and restaurant operators' fears.

Those concerns ratcheted up during a recent gathering of hotel operators in which Visit Indy officials revealed 2015 convention bookings are pacing at 97 percent of the goal rate and 2016 is at 92 percent.

"I've heard about these concerns from our members on an almost daily basis," said Patrick Tamm, Indiana Restaurant & Lodging Association president. "It's certainly top of mind for all our members."

Visit Indy CEO Leonard Hoops has tried to tamp down the concerns. He pointed out that, two years ago, Visit Indy was pacing at 82 percent of the goal rate for 2014, but rebounded to attract 554 groups accounting for 743,414 hotel room nights. That's only a slight drop from 2013, when 588 groups came to Indianapolis, consuming 790,034 hotel room nights.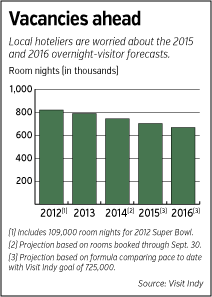 Shifting gears

Visit Indy has shifted gears to search for smaller corporate gatherings that plan events one to two years out rather than the major conventions' four to six years. Visit Indy is also offering incentives such as discounted food and beverage, audio/visual equipment rental, and wireless service to groups that will host events here in 2015 and 2016.

"We're not sitting idle," Gahl said. "We're being creative and aggressive."

Hoops is confident Visit Indy's efforts to attract short-term gatherings will make 2015 and 2016 at least as good as this year.

Hotel operators are making their own efforts.

"The next couple of years are going to be tough. We're doing everything we can to market ourselves and bring in our own business," said Dale McCarty, general manager of the Westin Indianapolis on the west side of downtown.

Part of the angst is spurred by three newly proposed hotel developments—which could bring a combined 565 hotel rooms downtown. If all those projects come to fruition, supply would rise 8 percent.

"That's a sizable number of new rooms to sell. It's a significant expansion of the market," said Mark Eble, Midwest regional vice president for PKF Hospitality Research. "The impending climate indicates it may not be the easiest time to sell them."

Victim of success?

The city in some respects might be a victim of its own success.

Downtown's strength in the hotel sector in the last few years—especially given the tepid economy—is striking. While the industry nationwide was mostly flat, downtown Indianapolis' occupancy and room rates rose.

Occupancy grew from 68.5 percent in 2012 to 73.8 percent in 2014, according to Smith Travel Research. Often, when the occupancy rate increases, the daily room rate decreases, but that hasn't been the case here. The average daily room rate from 2012 to 2014 rose from $136 to $147.

"Anytime a city can hover around or exceed 70 percent in occupancy, that's going to attract the attention of hotel developers," Gahl said.

But Eble said the next two to three years don't look nearly so good. Local occupancy growth is projected to slow to 1 percent in 2015 and 0.2 percent in 2016, according to PKF.

Projections for 2017 and 2018 are mixed. Visit Indy is at 107 percent of its booking goals for 2017 and 94 percent for 2018, Gahl said.

PKF, though, forecasts a 1-percent to 2-percent drop in hotel occupancy nationwide during that period, and Eble said it looks like that trend could hit Indianapolis. PKF projects occupancy citywide to decline 1.2 percent in 2017 and 2.3 percent in 2018.

Optimistic developers

Undaunted, hotel developers are marching into downtown.

A new brand from the Hilton hotel chain—Canopy by Hilton—will occupy the vacant Illinois Building just west of Monument Circle. Developers propose nearly 200 rooms.

A 102-room hotel is in the works as part of the redevelopment of the Consolidated Building at 115 N. Pennsylvania St. The hotel, a Home2 Suites by Hilton, is set to be built in the annex at the rear of the vacant, 15-story structure.

Both projects will likely be completed by 2016.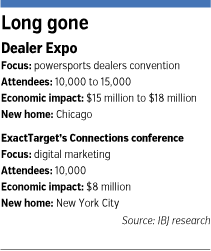 A third project is being considered across Pennsylvania Street from Bankers Life Fieldhouse. That development would house two brands—Aloft and Element—and add 286 rooms. The structure would take more time to complete than the other two projects.

In addition, the former Canterbury Hotel is undergoing a conversion to a Le Meridien. That means 99 rooms that have been off the market since January will reopen soon.

The biggest project on the horizon is likely to be a mixed-use development on the site of Pan Am Plaza less than a block east of the Indiana Convention Center. While the owner of the site, Kite Realty Group, doesn't have a firm timetable for development, Kite has let local hospitality officials know a hotel is in the works—possibly two.

People familiar with Kite's preliminary plans said the development could contain as many as 750 rooms—much bigger than any other hotel in the pipeline.

Pan Am Plaza plans

Some hospitality industry experts say the three other developments might cause Kite to pump the brakes on its project.

"As the market dynamics change, we're certainly going to study that," said Kite spokesman Adam Basch. "There's still a lot of opportunity for downtown hotels, especially in close proximity to the convention center."

With the type of multi-use development, including residential and retail components, being planned, Basch said there are other factors to consider beyond the hotel and convention market.

"The market has to be right for the size and scope of the type of project we're talking about," Basch said. "Not only does the economy have to be right, and the convention and visitor sector strong, but we need more people living downtown to make it work. It's moving that way."

Few in the hospitality industry expect a hotel to be completed at Pan Am Plaza before 2018.

Either way, the prospect of three new developments coming on line within three years, followed by the massive Pan Am Plaza redevelopment, gives Visit Indy plenty to be concerned about in terms of filling the rooms. Combined, the projects would increase rooms downtown nearly 20 percent—"a serious increase for any downtown or region," Eble said.

Changing times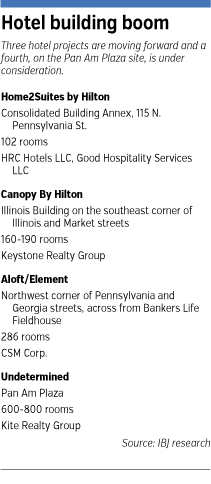 The local hospitality industry's success in dealing with the opening of the JW Marriott has given local hotel operators reason to believe the new supply of rooms can be absorbed, too. Many in the industry initially feared the massive increase in supply the JW caused would sink overall occupancy downtown below 65 percent. That didn't happen.

But Eble said it's different this time around—especially with the first three projects in the pipeline. The JW Marriott opening coincided with a massive Indiana Convention Center expansion, which helped usher in more conventions, gatherings and visitors.

The 2012 Super Bowl also stoked the fire. And big hotels like the JW Marriott have their own sales and marketing teams to generate business, Eble said.

"An operator of a development like the JW is going to grow the pie," he said. "These smaller boutique hotels with 100 to 200 rooms and little to no meeting space … they're going to be taking a slice off what's already there and relying on Visit Indy to bring in sufficient business."

Meeting planners see Kite's plan as part of a nucleus—along with the Omni and Crowne Plaza at Union Station—that could serve the south end of the Indiana Convention Center.

"A development on the Pan Am Plaza could totally change the image of the city. It would put the city in a better position to host two conventions at once," said Debbie Locklear, president and owner of locally based Meeting Services Unlimited Inc., which handles large national trade shows locally and nationally. "It changes the ballgame for the city."

Locklear sees little downside to the new hotels—even the smaller boutique ones.

"Those hotels will cause every other hotel in the city to step up their game," she said, "and in the end that's going to bring this city more conventions, corporate meetings and leisure travelers."•