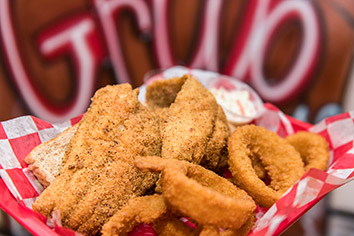 I'm thrilled when an ambitious eatery opens that has the potential to increase our reputation as a food-forward town. But I'm equally happy when a neighborhood place opens where I know I can reliably count on good eats at a good price, ideally prefaced by free and easy parking and partnered with friendly service.
And so allow me to introduce you to—if you haven't already met—The Grub House (1953 N. College Ave., 974-9089).
It would be easy to drive past this just-a-few-months-old eatery as you drive from Mass Ave to Broad Ripple or vice versa. Housed in a nondescript building with signage parallel to the street, you might not even notice it unless you saw folks exiting with bags of takeout (there was a constant parade on both of my visits, testament to The Grub House's neighborhood popularity).
Inside, a wall-covering mural featuring giant utensils, the Indianapolis skyline and the restaurant (whose chimney smoke playfully wafts toward the real vent) sets a casual mood. Service is friendly and accommodating—it might say more about other neighborhood eateries than it does about this one, but it's refreshing at lunchtime to have a waitress ask if a customer would like to have the TV turned down, off, or to a different channel. I appreciated the request. And the place was meticulously clean.
The big draw here is breakfast served all day ("all day" meaning store hours of 7 a.m. to 7 p.m.). Over a morning meeting, we were happy to be met with fried biscuits with just a sprinkling of powdered sugar—accompanied by apple butter packets. Putting five in a basket for three of us seemed a bit cruel, though. I suppose we could have asked for a sixth to avoid a stare-down.
Sweet Croissant French Toast ($7.50) was easily a highlight. The Grub House's signature breakfast came fried in a nutmeg/sugar/cinnamon/vanilla mix that was deliciously different enough from traditional French toast to warrant return trips. Spicy country sausage and lightly scrambled eggs rounded out the filling plate.
The Salmon Croquette ($9.25) featured two patties with green onions, a fluffy texture, and a just-right light, crunchy crust. A side of grits was creamy but unexceptional. The over-medium eggs were clearly prepared the "old-school" way, deliciously fried in the pan drippings of the salmon croquettes.
All breakfast entries are served with toast or biscuit, two eggs, and a side. Again, small pleasures, but it's nice when a waitperson elaborates on what's going to be in a fruit salad, even if it's a small side.
For those not in breakfast mode, The Grub House also offers breaded pork chops, club sandwiches and Philly cheese-steaks. The Catfish special ($9)—highlighted on a chalkboard wall—included a pair of satisfying fried fillets served on bread. Nothing fancy, but a spot-hitter when the mood hits.
Despite buildup from the waitress, a square of 7-Up Cake ($2.50) wasn't anything special. Next time—and there will be a next time—I'll try the cobbler.•
Please enable JavaScript to view this content.