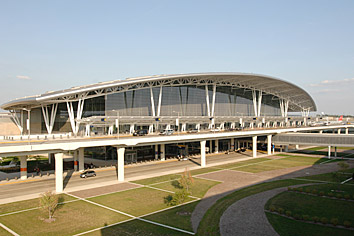 Allegiant Air announced Wednesday morning that Indianapolis is one of five new cities in its network, which links small cities to vacation destinations.
The Las Vegas-based airline will begin flying in February from Indianapolis International Airport to Las Vegas and three Florida cities: St. Petersburg, Orlando and Punta Gorda.
Airport officials said Allegiant's three Florida destinations represent new service from Indianapolis, but existing airlines already cover the same markets through larger airports in those destinations.
The new Allegiant flights bring to 37 the total of scheduled nonstop destinations offered from Indianapolis, including seasonal service, for 2015, airport officials said. Thirty-seven is the most nonstop destinations from Indianapolis International since 2009, according to the airport.
Allegiant introduced the new service with limited-time offers on one-way fares as low as $55 to $85, depending on the destination.
Details of the new service are as follows:
— Las Vegas, via McCarran International Airport, beginning Feb. 27
— Orlando, via Sanford International Airport, beginning Feb. 12
— Southwest Florida, via Punta Gorda Airport, beginning Feb. 11
— Tampa Bay, via Clearwater International Airport, beginning Feb. 12
Flights will be available three times a week to Las Vegas and four times a week to Florida.
Florida-bound Hoosiers can also fly from Indianapolis on other airlines to Fort Lauderdale-Hollywood International Airport, Orlando International Airport, Miami International Airport, Southwest Florida International Airport and Tampa International Airport.
The four other origin cities that Allegiant added to its network are Pittsburgh; Omaha, Nebraska; Richmond, Virginia; and Jacksonville, Florida.
Indianapolis International officials have been racing to try to secure additional airline service to the city, as they try to blunt the impact of consolidation in the industry, including the mergers of Southwest Airlines and AirTran Airways, and US Airways and American Airlines. 
Officials also are trying to bolster Indianapolis' convention sector, which has been hurt by a shortage of direct flights, and make the city more accessible to business executives elsewhere who want to do business with Indiana companies.
At the urging of economic development officials, United Airlines in January launched nonstop service to San Francisco.
Please enable JavaScript to view this content.