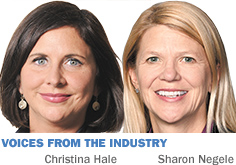 Few issues facing lawmakers have as broad an application as energy policy. Yet energy, as an issue, has been mostly overlooked by the average consumer—until now. As legislators on committees dealing with energy and utilities, economic development, agriculture and state finances, we are hearing from a growing number of businesses, big and small, as well as schools and individual constituents, sounding an alarm over rising electricity rates.
Our industrial electricity rate ranking among other states is in free fall, dropping from fifth best in the nation in 2003 to 27th in 2013. In the same period, our commercial electricity rate ranking fell from 13th to 23rd and our residential rates are getting worse, too, tumbling from 12th best to 19th, while household income remains stagnant. Our price of electricity is climbing much faster than in the rest of the country.
As energy costs increase, so does the potential for new business to invest elsewhere, for existing industries to move, and for small businesses to close—all resulting in lost jobs. To address this threat, we look forward to working with Gov. Pence and other legislators in a bipartisan manner on this vital issue.
One proposal that would serve Hoosier ratepayers well and exemplifies the "all of the above" energy solution Pence has requested is to require a transparent, competitive bidding process for utilities to follow when purchasing new energy, or leasing or building a new power plant. This Competitive Procurement proposal has the support of the Indiana Industrial Energy Consumers, an association of 26 of the state's largest industrial and manufacturing businesses.
Competitive Procurement would allow for competition from independent power producers of coal, natural gas, nuclear, solar, wind and other energy resources to compete with a utility's bid. Currently, utilities can make multimillion- or billion-dollar decisions that affect our industries, small businesses and households without conducting a request-for-proposal process.
The lack of open bidding allowed Duke Energy's coal gasification plant in Edwardsport to be built without competitive evaluation. Furthermore, costs did not have to be held to a firm bid price because the current process allows for an estimated cost to be accepted and for cost overruns to be borne by the ratepayer.
The cost to build the Edwardsport plant was first projected at $1.9 billion but skyrocketed to $3.2 billion. Ratepayers in Duke's service territory are on the hook for $2.6 billion of that cost and they are seeing up to a 16-percent increase in their rates.
Independent power producers, on the other hand, provide an all-in, binding cost when responding to RFPs, so any expenditure over budget would be borne by them, not the Indiana ratepayer. The core business of an independent power producer is power generation, so they have a focused set of skills and experience, and are efficient in constructing power plants and electricity transmission.
Natural gas prices continue to drive an energy renaissance in America, and independent natural gas companies could also deliver these savings to Hoosiers. Most of the power generated by Indiana's wind farms goes to consumers elsewhere because of the lack of ability to compete in Indiana. Regional transmission of energy allows for low-cost independent power producers in surrounding states to transmit their electricity to Indiana, thus lowering rates while reducing Indiana's carbon emissions.
Many options are at hand, but only if we level the playing field with an open process can we take advantage of these opportunities and allow the marketplace to secure the most reliable power at the least risk and with the best value for the consumer.
Last legislative session, a small step was taken to at least require a utility to inform the Indiana Utility Regulatory Commission whether they used an RFP process and to explain why. However, a utility can still forgo the process and does not have to provide all available bid data to the IURC.
In the upcoming session, one of our priorities will be a competitive procurement process that ensures bids are fairly evaluated by providing the IURC with all bid data available to the utility while also holding a winning bidder to a fixed cost to protect consumers and improve efficiency.
When this process is finally conducted with free-market principles, Indiana's industrial, commercial and residential ratepayers, along with schools and households, will all benefit.•
__________
Hale, a Democrat representing District 87 in Indianapolis, is a member of the Indiana House Utilities and Energy Committee. Negele serves on the House Ways and Means Committee. A Republican, she represents District 13 in west central Indiana.
Please enable JavaScript to view this content.