New York–Doors opened when Indianapolis' Josh Kaufman, who had been playing guitar in Potbelly sandwich shop on Monument Circle, took the top prize on NBC's "The Voice." One unexpected offer was an invitation to take over the title role in the Broadway revival of the musical "Pippin." I caught up with him backstage, just a week into his run with the Tony-winning revival (the show closes in January).

IBJ: For most first-timers on Broadway, this is the largest audience they've ever played for. You're coming from a completely different situation, with millions watching you on TV. Does it feel different?

KAUFMAN: I was more nervous with "The Voice" stuff, because, regardless of how the show went the first night here, I was going to be back the next night.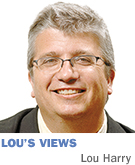 IBJ: On Broadway, you already won.

KAUFMAN: Exactly. Here, there's a lot more memorization but almost a month to get ready. On "The Voice," you finish up one week and you start getting ready for the next. There were definitely some nerves on the first night in "Pippin," but it was a different feeling.

IBJ: The biggest surprise?

KAUFMAN: How demanding it is. How physically taxing a role it is. There's so much movement—climbing, jumping, falling—so much energy there the whole time. Pippin throws himself into everything 100 percent, trying all these things to find fulfillment.

IBJ: How did you get the gig?

KAUFMAN: I was on "The Voice" tour over the summer and the guy who runs my website said he got a contact about a Broadway show. He said it seemed real. They flew me in for some work sessions and offered me the job.

IBJ: Any history with musical theater?

KAUFMAN: In school. And in a place that people don't often think of where I had a lot of exposure growing up: in church doing musicals and things like that … obviously not on this scale. It's something I've always enjoyed and had an interest in, but, you know, you just pick what avenues you go down.

IBJ: What do you think would have happened if, two years ago, you auditioned for "Pippin" at [Booth Tarkington] Civic Theatre?

KAUFMAN: I have no idea.

IBJ: So what happened from "Yes, I'll do it" to opening night?

KAUFMAN: They set me up with a couple weeks of dance instruction and working with a gymnastics place. I worked on the dance, the physicality—climbing poles, tumbling. I watched the show almost every night for 3-1/2 weeks and did a lot of studio work just reading or running lines with one of the stage managers or the understudies and working with the guy in charge of choreography.

IBJ: What about working with the principal actors?

KAUFMAN: Not until a couple of days before we opened. We did some scene work. I did the main work with them in the put-in—the day I actually went into the show.

IBJ: And the aches and pains?

KAUFMAN: My shoulder. And a little in my knees and ankles. There's a lot of absorbing there, especially in the back flip coming down off the trapeze.

IBJ: Is your approach to the music different?

KAUFMAN: When I sing jazz, I lighten it up and add a little air to it. When I sing soul music or rock, I add a little grit to it and push a little more. I was told I could do different things melodically, but this is a cleaner sound. And there's the acting element. Sometimes, it's more about delivering a line almost in a spoken way.

IBJ: When was the last time you were clean-shaven?

KAUFMAN: Maybe a couple of years ago. It wouldn't have been something I would have chosen to do. But I don't mind. I'm used to it now. If it was even just a tie—if I liked having a beard as much as I didn't—I'd go with the beard. I just hate shaving so much.

IBJ: Have you heard The Jackson 5 version of [the "Pippin" song] "Corner of the Sky"?

KAUFMAN: The what?•

__________

This column appears weekly. Send information on upcoming arts and entertainment events to lharry@ibj.com.