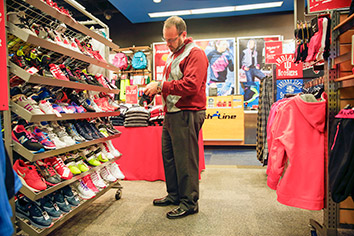 Indiana's three publicly traded retailers could use a little holiday cheer heading into Black Friday.
Shares of The Finish Line Inc., HHGregg Inc. and The Shoe Carnival Inc. all have lost value this year and are trailing major stock indexes by a wide margin.
While the S&P 500 has gained 10 percent since Jan. 2, shares of HHGregg have fallen 61 percent, Shoe Carnival 35 percent, and Finish Line—faring the best out of the bunch—4 percent. But compared to its 52-week high on Sept. 17, Finish Line shares have slid 16 percent.
The retailers' faltering performance is in stark contrast to the months leading up to last year's holiday season, when all three notched stock gains of at least 40 percent for 2013.
All three, however, could get a short-term lift from strong holiday spending forecasts, buoyed in part by low gas prices. The National Retail Federation is projecting a 4.1-percent increase, up from 3.8 percent in 2013.
An extra day to log more sales could help as well. Last year's shopping season lasted just 27 days, the shortest since 2002.

Feinberg
"Everything that has changed in the past year is very positive for the fourth quarter," said Richard Feinberg, a Purdue University professor of consumer sciences and retailing. "Gas prices are down and employment is up. The quarter will be very good for most retailers."
Many hope to get a jump on sales by forgoing Black Friday to instead open with big deals on Thanksgiving Day, said Daniel H. McQuiston, a marketing professor at Butler University.
"With all those retailers, you've got to find a real competitive advantage," he said. "Everybody's used to everything being on sale all the time. That's the kind of mentality people are in."
New app, more hours

May
Indianapolis-based HHGregg is gearing up for the shopping season in a big way.
The struggling electronics, appliance and furniture retailer is rolling out a new smartphone app that should improve the consumer purchasing experience, CEO Dennis May told analysts in an Oct. 30 conference call.
It's also extending hours, particularly on Black Friday, and will offer more promotions, he said.
"We did not have the right holiday hours last year," May told analysts who follow the company. "And that impacted not only our Black Friday period, but kind of set the stage for the holiday season."

Shares of HHGregg climbed to $20.46 in September 2013 and still traded near $15 each in December. But they have swooned since January, falling from $13.82 to $5.45 at closing Nov. 10.
HHGregg has labored to find a winning product mix to compete against big-box and online retailers, and is focusing more heavily on appliances, furniture and fitness equipment amid slumping sales of flat-screen televisions.
Fifty-three percent of its sales came from appliances in its latest quarter, up from 50 percent a year ago. Conversely, consumer electronics accounted for 34 percent of sales, down from 36 percent last year.
But the company hasn't given up on TVs altogether. May expects sales of what's known in the industry as 4K televisions to account for 20 percent of HHGregg's total holiday television sales. The higher-priced sets offer curved screens and a picture with four times the resolution of a typical high-definition TV.
"The space that Best Buy and HHGregg are in is incredibly competitive," Feinberg said. "The good news is: How many big screen TVs do people need? The answer is: Always one more. And that's good."
Rebound in basketball
Lyon
The Finish Line, also locally based, is hoping its basketball shoe category will rebound following disappointing sales in its second quarter ended Aug. 30.
Certain brands from the venerable Michael Jordan line, such as the Future Flight model introduced in July, sold "extremely well," Finish Line CEO Glenn Lyon told analysts in a conference call.
"That becomes a greater share of the offer as we move into the back half of the year," he said. "So that gives us confidence, especially as we move into Q4, and more of that product hits the marketplace."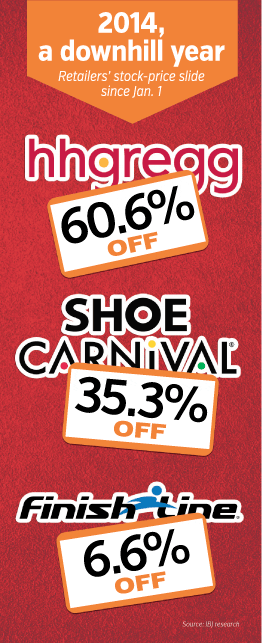 New Nike shoe lines from NBA stars LeBron James and Kevin Durant should help drive store traffic, too.
Also giving Finish Line confidence is its completion of a major deal announced in April 2013 with department store chain Macy's, in which the company is attempting to broaden its scope by establishing a presence in the stores. It manages the athletic footwear inventory in 651 Macy's stores, including 280 branded or staffed shops.
"We've incorporated key earnings from the buildout phase, which will benefit future performance, including fine-tuning the merchandise mix and stores, and on macys.com," Lyon said.
Same-store sales, a key retailing metric, increased 1.5 percent year-over-year in the second quarter. But Finish Line's stock price fell as much as 12 percent after the company in September reported second-quarter earnings and revenue that fell short of analyst expectations.
Banking on boots
Meanwhile, Evansville-based Shoe Carnival is banking on strong boot sales to help boost sales.
"Our overwhelming belief that boots are going to be, again, the item of the season, we feel strong about the fourth quarter," Shoe Carnival CEO Clifton Sifford told analysts in a September conference call.
For the quarter ended Aug. 2, the company's same-store sales fell 2.1 percent, mostly due to a decline in store traffic, a lack of new fashion drivers, and a still uncertain economy, the company said.
Barring a second frigid winter in a row, Sifford told analysts, store traffic "would have to improve."
The real chore for retailers, however, is differentiating themselves from the scores of competitors, Feinberg at Purdue said.
"All the signals point to a strong holiday season, but [sales are] spread out over many more channels," he said. "That's the problem."•
Please enable JavaScript to view this content.