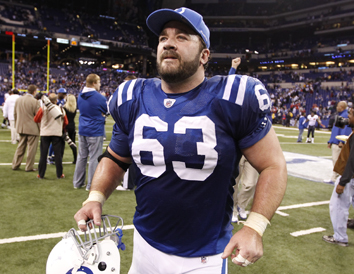 In a case involving retired Indianapolis Colts center Jeff Saturday, the Ohio Supreme Court says it will hear arguments for and against Cleveland's so-called "jock tax" early next year.
At issue is an Ohio law allowing cities to levy income tax on professional entertainers or athletes no matter how long or short a time they're in the state.
Saturday and former Chicago Bears linebacker Hunter Hillenmeyer sued over Cleveland's interpretation of the law, saying Cleveland unfairly imposes a 2-percent income tax based on games played in the city as a percentage of total games played.
Hillenmeyer and Saturday are challenging the way Cleveland assesses its tax. The city uses a "games-played" calculation that divides the number of contests in the city by the number of games in a season. The players prefer "duty days," or dividing days in the city by days in a season.
The three-member Ohio Board of Tax Appeals ruled in February that Cleveland's per-game method of calculating taxable income didn't violate state law. Saturday and Hillenmeyer appealed the case to the Ohio Supreme Court.
The court scheduled a Jan. 14 hearing in the case.
Please enable JavaScript to view this content.