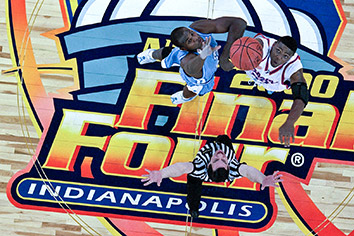 Indianapolis will host the men's basketball Final Four in 2021, the NCAA announced Friday evening.
The event is scheduled for April 3 and 5, 2021, at Lucas Oil Stadium, and will be the city's eighth men's Final Four.
"Once again the eyes of the sports world will look toward Indy as our city hosts its eighth NCAA Men's Final Four in 2021," Mayor Greg Ballard said in a written statement. "This city is synonymous with hosting great sporting events and I have no doubt our local organizing team and legion of volunteers will show basketball fans around the world the best things about Indy."
In addition, the NCAA said Monday that Indianapolis will host first-round and second-round NCAA men's basketball games at Bankers Life Fieldhouse in 2017. Those will take place on Friday, March 17, and Sunday, March 19. The announcement marks the first time that the first and second rounds of the NCAA tournament will be played in Indianapolis since 2005.
The NCAA also announced the following hosts for upcoming Final Fours:
— 2017: Phoenix;
— 2018: San Antonio;
— 2019: Minneapolis;
— 2020: Atlanta.
Indianapolis had previously been chosen to host the 2015 Final Four at Lucas Oil Stadium, its seventh time hosting the event.
Eight cities were in the running to host upcoming Final Fours. New Orleans, Dallas and St. Louis were unsuccessful in their bids.
VisitIndy Executive Director Leonard Hoops on Thursday said Indianapolis submitted bids for 2018 and 2020 in hopes of landing the tournament in one of those years. But the NCAA made the city wait a little longer.
While Indianapolis has a memorandum of understanding with the NCAA that guarantees hosting five major events every five-year period, Hoops said that doesn't guarantee men's Final Four tournaments will be one of those events.
The NCAA agreed to put Indianapolis in a permanent rotation after the city paid to build its headquarters at White River State Park, where the NCAA operates rent-free. Nonetheless, Hoops said Indianapolis has to stay competitive to keep hosting the event.
Kansas City is the only city to host more than eight NCAA men's basketball Final Fours. The city has hosted 10, but none since 1988.
Indianapolis previously hosted the event in 1980 at Market Square Arena; in 1991, 1997, 2000 and 2006 at the Hoosier (RCA) Dome; and in 2010 at Lucas Oil Stadium.
The women's basketball Final Four was held in Indianapolis in 2005 and 2011, and is scheduled to return in 2016.
Please enable JavaScript to view this content.