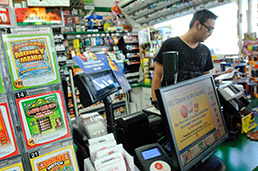 A new multi-state game that Indiana hoped would boost lottery sales has gotten off to a slow start.
Sales of the Monopoly Millionaires' Club have been too low to cover weekly jackpot drawings since the game launched in October in Indiana and 22 other states. So far, the Hoosier Lottery is dipping into its own pocket to cover Indiana's share of costs through the Multi-State Lottery Association, also known as the MUSL.
Indiana sales of the Monopoly Millionaires' Club tickets, which cost $5 each, totaled $403,434 through Nov. 14, but the state paid the MUSL $539,000 on Monday, Hoosier Lottery spokeswoman Courtney Arango said.
The unexpected prize expense could hurt private manager Gtech Indiana LLC, which has the contract to run the Hoosier Lottery and is counting on the Monopoly game to help it meet an ambitious profit target for the 2015 fiscal year.
Gtech predicted "bid net income," which is revenue minus prizes and other operating expenses, of $320 million for the 2015 fiscal year. That would be a 25-percent increase over the year ended June 30, in which Gtech came up slightly short. Under Gtech's contract with the Hoosier Lottery, the company must make a shortfall payment if it doesn't deliver as much income as promised in its bid to win the contract.
The Monopoly Millionaires' Club is part of Gtech's 2015 business plan for Indiana.
Nationwide, sales of the Monopoly game were about $22 million short of the amount needed to cover the first jackpot, which was hit Nov. 7 in New Jersey, said Dawn Nettles, publisher of a long-running lottery newsletter, Lotto Report. Nettles, based in Garland, Texas, calculated the shortfall based on sales information supplied by MUSL.
Iowa-based MUSL, which also runs Powerball and Mega Millions, didn't return a phone message seeking comment.
Under the Monopoly game concept and rules, weekly jackpots can roll as high as $25 million, and when one is hit, that triggers 10 or more additional million-dollar prizes.
The Nov. 7 jackpot was $21 million, and it triggered 14 million-dollar prizes in various states (none in Indiana).
To cover the jackpot and million-dollar prizes, the states needed to sell about $26 million in tickets, Nettles said. (The amount of cash required to cover prizes doesn't have to match the advertised jackpot value because, under game rules, the jackpot value can be paid over 30 years.) Total sales for the Nov. 7 drawing were about $4 million.
Total sales since the first drawing, Oct. 24, are about $17.6 million, according to Lotto Report.
It's not unheard of for lottery sales to come up short of jackpot requirements, but usually states have reserves to cover those events, Nettles said.
Hoosier Lottery officials hope that Monopoly Millionaires' Club will catch up as more prizes are awarded, raising awareness of the game, and once a television show featuring the Friday night drawings launches in February, Arango said.
Nettles said the creators of the Monopoly game misunderstood lottery players. While $5 scratch-off tickets are very popular, the draw-game crowd won't pay that much for a single line of numbers, which are all computer-generated. "It's a bad concept," she said. "It's too complicated for the people."
Please enable JavaScript to view this content.