A recent trip East included seeing Josh Kaufman in his Broadway debut in "Pippin" and the first full professional production of the Ball State University- incubated musical "The Circus in Winter" in Connecticut. But you won't see reviews of either of those musicals here.

That's because, A.) I caught Kaufman during his first week of performances and was asked to treat the experience as a preview period (I did get backstage to chat with him—see the interview at www.ibj.com/arts), and B.) The performances of "The Circus in Winter" were considered developmental—meaning script, songs and directorial choices change with each performance (see story, page 1).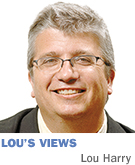 I can comment, however, on two classic pieces by legendary composers that I caught on the same trip: the Broadway revival of "On the Town" and the world premiere production of "Holiday Inn" at the Goodspeed Opera House in Connecticut.

If you are familiar only with "On the Town" from the Gene Kelly/Frank Sinatra movie version, then you don't know what you're missing. Yes, it's still about a trio of sailors on 24-hour leave searching for love. Both film and stage version feature that iconic "New York, New York" number (not the "Start spreadin' the news" one—the "helluva town" one). But the flick ditched most of Leonard Bernstein's stunning score (including the show's most moving tune, "Some Other Time"), diminishing the ache that underpins the antics.
(Photos courtesy of Joan Marcus)
The revival, which opened Oct. 16, pulls out all the stops, combining a substantial orchestra (opening the show, as it did during its wartime premiere, with "The Star Spangled Banner") with a sizable cast and a color palate bright enough to make the movie version's Technicolor New York look like 1970s Times Square.

Unlike most Broadway shows these days, "On the Town" is led by actors you probably never heard of, cast for talent rather than marketability. Good luck finding a stronger triple-threat than Tony Yazbeck as the lovelorn Gabey, who manages to blend acting, singing and dancing beautifully without ever feeling show-offy. When he stands still against scenic designer Beowulf Boritt's beautiful harbor-front set and sings "Lonely Town," the result is stirring and truthful, giving "On the Town" a deeply human foundation.

And Joshua Bergasse's choreography, reminiscent but not beholden to Jerome Robbins' original moves, reminds what a joy gorgeous, character-centric dance can be. It certainly helps to have New York City Ballet principal dancer Megan Fairchild as the subject of Gabey's affectionate quest. And she can act, too.

In the romance department, Gabey's shipmate buddies do well, too, in their matches. Who wouldn't want to spend a day on the town with Alysha Umphress' brassy Hildy or Elizabeth Stanley's loopy Claire? And to hear them duet on "Some Other Time"? Magic.
(Photo courtesy of Joan Marcus)
So why isn't "On the Town" revived regionally as often as it deserves? Perhaps because of its music and dance demands. Like its dark cousin, Bernstein's "West Side Story," "On the Town" has a score that cries out for a sizable orchestra and begs for top-notch dance.

Unlike "West Side Story," it can be an alternately bumpy and graceful show where over-the-top comedy stands shoulder-to-shoulder with theatrical beauty. As such, it risks dividing its audience. Those who appreciate the ballet might balk at the bawdiness. Those who appreciate the exaggerated humor might not be receptive to the introspection.

But when the two are expertly blended, as they are here, a strong case is made that "On the Town" deserves elevated status in the musical theater canon. And this revival deserves to be a big hit. Here's hoping audiences embrace it.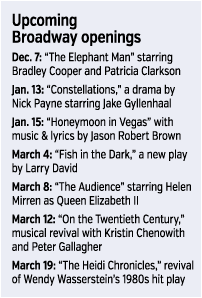 Given its softer demands—fewer sets, more consistent tone, smaller cast—"Holiday Inn" is likely to generate more regional productions over the next few years than "On the Town." Following in the mold of the oft-produced "White Christmas" (being offered by Indy's Footlite Musicals as I write this), "Holiday Inn" tells a light story punctuated by great Irving Berlin tunes. The plot: A Connecticut farmhouse is converted into a themed theatrical showplace by a pair of friendly rivals, offering ample opportunity for musical numbers.

The Goodspeed production—extended through Dec. 28—is packed with the tunes familiar from the 1942 Bing Crosby/Fred Astaire classic ("Easter Parade," "Be Careful, It's My Heart," and "White Christmas" among them—with the film's embarrassing blackface number excised, of course). But its professional-but-forgettable leads don't carry anything near the Crosby/Astaire charm necessary for the thin material to transcend.•

__________

This column appears weekly. Send information on upcoming arts and entertainment events to lharry@ibj.com.