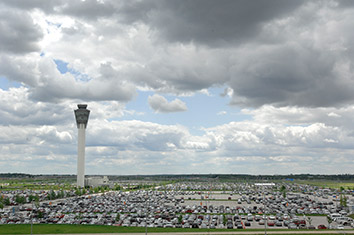 Indianapolis International Airport expects to hire multiple local real estate brokers to help dispose of or develop 1,200 acres.
The land has been identified as not needed for aviation uses, under a new strategic plan for real estate that the Indianapolis Airport Authority approved Friday morning.
The plan calls for selling 743 acres and developing another 469 acres for non-aviation uses. (Here's a map of the properties.)
The 1,212 acres slated for disposal are valued at $83 million and could generate annual tax revenue of $1.7 million, according to the airport's own estimates.
CEO Mario Rodriguez said that estimate could be off-base. "That's why we're hiring professionals," he said.
The airport will hold an open house for local brokers in January and issue a request for qualifications in February. Rodriguez said the airport would work with more than one broker.
Rodriguez, who was hired six months ago, said he wants the airport's real estate department to focus on developing 663 acres, including the former terminal along High School Road, for aviation uses. That could include a myriad of activities, from airplane maintenance and repair to manufacturing.
It's important that the airport retain the right amount of land for aviation because once that restriction is lifted, it can't be returned, Rodriguez said. "It's waterfront property," he said. "Once it's gone, it's gone."
The airport also has 2,000 acres of habitat-preservation land, which Rodriguez said could be transferred to a conservancy organization or a nearby parks system.
Please enable JavaScript to view this content.