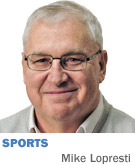 The man at the other end of the phone said he'll be on a mission next Saturday, returning to Indianapolis for the Big Ten football championship. He remembers what happened last year, and vowed to do better this time.

Ohio State coach Urban Meyer? Nah. All-world competitive eater Joey Chestnut. So bring on the shrimp cocktail.

Maybe you remember Chestnut in 2013, wolfing down St. Elmo's incendiary cocktail sauce as if it were strawberry jam. You know, the stuff that even in small quantities is famed for making your corneas glisten and your sinuses clear? And everyone thought the Michigan State Spartans were the baddest guys in town that Saturday. Chestnut went through 105 shrimp in eight minutes, or 9.2 pounds, or the equivalent of 22 orders at dinner. His mouth must have felt like a blow torch.

"It was probably the spiciest I've ever had," he said the other day on his 31st birthday. "I can't believe how people do it. I can't believe I'm doing it again, and I'm trying to do more."

That's the thing. He wants to hit 10 pounds this time in the second annual St. Elmo Shrimp Cocktail Eating Contest, which is part of downtown doings in conjunction with the Big Ten game. So this time, Chestnut will be prepared. Game week will include practicing on his own sauce, to get his mouth blast-furnace-ready.

"The hardest part getting used to are the big chunks of horseradish. They don't serve it like that anywhere else," he said. "But the shrimp is amazing, and that makes it a lot easier."

Perhaps you know Chestnut from all the hot dogs he inhales in the 4th of July contest. He is to that event what Alabama is to the AP college football poll. He has also won competitions by devouring bratwursts, chicken wings, an entire turkey and 121 Twinkies. So while he might be burning up his tongue in Indianapolis, at least he's not ingesting a couple of truckloads of sugar.

"The shrimp has a really clean taste to it, and is easy to digest," he said. "Probably one of the healthiest foods I've ever eaten in competition."

Well, it certainly sounds better for you than a crate of Twinkies. What is not so healthy is the Indianapolis weather. The Californian always wears shorts in competition, so imagine how happy he was last December to get a good dose of Indiana, with its remnants of a snowstorm and temperature in the low 20s.

"I couldn't feel my face," he said. "And I've never eaten in snow before."

But there he was, drinking hot water with his gorging as usual, to keep his digestive muscles loose and maximize his intake capacity. Think of that combination. Washing down St. Elmo cocktail sauce with hot water.

"Doesn't sound good, does it?" he said.

There was also competition between police and fire personnel, and they weren't quite as hardy with the sauce.

"They were wincing," St. Elmo co-proprietor Craig Huse said, and not without glee. "They were really struggling."

Then fans from both schools competed, and one genius came up with the idea of putting the cocktail sauce under his eyes, as if it were eye black. For that higher education, his parents probably paid a lot of tuition.

"I was a little worried about him," Chestnut said.

Then came the pros, and Chestnut won with shrimp to spare, overcoming the cold weather and the hot sauce. But it was a messy business, as the competitors went at the shrimp cocktails with their bare hands.

"It looked like your 2-year-old nephew digging into something," Huse said. "Frankly, their hands looked as if they had just murdered somebody."

One disclaimer. The temperature of the sauce has been cut just a tad, from industrial strength explosive to simply fiery, because the sponsors don't want to see anyone carried away with a charred stomach. But it'll be fierce enough to cause distress.

Like the U.S. Open folks don't mind seeing a bogey or two when golfers have at their course, the St. Elmo people don't mind a little discomfort when eaters have at their shrimp.

"Absolutely. If we see no reaction, we feel like we've failed," Huse said. "We want to see tears. We want to maybe see them sniffle a bit, blinking their eyes and pausing. We don't need to see them go through this without any type of suffering. But Joey Chestnut is somebody that can almost take the suffering out of it."

Indeed.

"I think I'll be ready. The sauce won't be much of a factor," said Chestnut, and Meyer can only hope the same can be said that day about his Buckeye rush defense.

Plus, Chestnut will have one other thing going for him at 3 p.m. Saturday on Georgia Street.

"I love a good shrimp cocktail, so this is right up my alley."

So long as it isn't snowing Dec. 6 in Indianapolis.•

__________

Lopresti is a lifelong resident of Richmond and a graduate of Ball State University. He was a columnist for USA Today and Gannett newspapers for 31 years; he covered 34 Final Fours, 30 Super Bowls, 32 World Series and 16 Olympics. His column appears weekly. He can be reached at mlopresti@ibj.com.