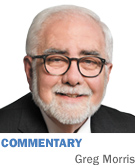 It's the season of giving. Depending on the source of the research and whether we're talking about total or just online giving, it appears that 25 percent to 50 percent of all donations to charitable organizations take place around the holidays—between Thanksgiving and year end. For some organizations, the percentage is even higher.

Additionally, organizations that attract donations this time of year tend to garner loyalty from those donors who will make multiple donations in the months ahead. This means it's crunch time right now. Successful fundraising in the next 30 days will determine how well these organizations can carry out their mission in the next 12 months.

Based on this information, many of you are going to be making significant charitable contributions in the next few weeks, if you haven't already done so. Here's an amazing statistic I read recently: About two-thirds of Americans who engage in charitable giving do little or no research on the organizations they give to. I have to believe that percentage is much lower for IBJ's more informed readers.

This brings me to IBJ Media's 2015 Giving Guide, which was inserted in a recent issue of our newspapers (the Nov. 17 IBJ and the Nov 19 issue of our sister publication, Indiana Lawyer). Most of our readers save this 104-page publication and reference it throughout the upcoming year.

We all get extremely busy this time of year; you might have put this valuable reference guide aside and haven't had the chance to take a close look yet. So, I want to call your attention to the new edition of our Giving Guide as you consider your charitable giving this holiday season.

The 2015 edition features regional philanthropic opportunities and is intended to be a connector between the needs of not-for-profits and the resources of individuals and the business community.

The 2015 Giving Guide highlights 45 not-for-profits in central Indiana. Each profile gives you essential information about that particular organization. You'll find vital statistics like annual revenue and top funding/donor sources. Along with staff leadership and contact information, we include the organization's goals, mission statement, fundraising activities and events, and members of the board.

There's information regarding giving and volunteering opportunities for each organization. Our hope is that every reader of the Giving Guide will be inspired by the mission of several organizations and help out to the best of their ability. If we all do that, collectively we can make a significant positive impact in people's lives and on our community.

In addition to the profiles, the following features are included:

• Our showcase of this year's Michael A Carroll Award winner, Rollin "Rollie" Dick. This award, in memory of former deputy mayor and Lilly Endowment executive Mike Carroll, is given annually by IBJ to recognize the community leader who best represents the qualities and priorities demonstrated by Mike Carroll: determination, humility and community.

• United Way retires its thermometer and focuses the fundraising campaign on the impact donations make in changing lives.

• Corporate generosity in all its forms featuring Duke Realty, Citizens Energy, FirstPerson and Duke Energy.

• A partnership between Finish Line and Boys & Girls Clubs to help kids on the east side.

If you missed the 2015 Giving Guide and can't find your Nov. 17 IBJ, you can call our office at (317) 634-6200 to order another copy. You can also find the guide online at ibj.com. You'll be able to access this digital edition for the next 12 months.

With IBJ's 2015 Giving Guide, there's no excuse to be among uninformed charitable givers. You'll have all the information you need to get an intelligent overview with Web links and contact information for each organization. Then you can dig deeper into your research and make informed decisions.

Thanks to Duke Energy, MacAllister Machinery, Regions Bank and the United Way of Central Indiana for their sponsorship and in helping make this year's edition of IBJ's Giving Guide possible.

It's the season of giving. Thanks to our IBJ readers for all you do to help our community and those in need throughout the year. And thanks for your generosity this holiday season.•

__________

Morris is publisher of IBJ. His column appears every other week. To comment on this column, send e-mail to gmorris@ibj.com.