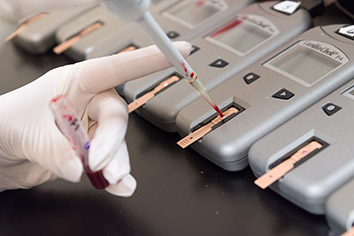 PTS Diagnostics was in poor shape when Obamacare passed nearly five years ago.
The Indianapolis-based maker of CardioChek blood testing devices had spent the previous four years trying to catch consumers' eyes on the shelves of Walmart and other retailers. And it wasn't going well.
But then PTS engineered an about-face, ditching its retail strategy to focus on serving physicians and nurse practitioners. Obamacare and other factors are pushing health professionals to rely more than ever on the kind of diagnostic tools PTS makes, to help keep patients healthier and out of the hospital.
This year, PTS is on pace to record revenue of nearly $50 million, up from $17 million two years ago.

Huffstodt
"It's a very exciting time for us. A lot of people worked very hard to get things to this point," said PTS CEO Bob Huffstodt, sitting in a conference room at PTS' headquarters in Indianapolis' Park 100 business park. Behind him are boxes containing PTS' CardioChek disposable blood testing devices and its newly acquired product, A1C Now blood glucose monitors.
PTS acquired the A1C Now test in December 2013 from Germany-based Bayer AG, and it has contributed about half of PTS' 60-percent revenue growth this year. Bayer has been trying to sell its entire blood glucose monitor business on and off the past two years.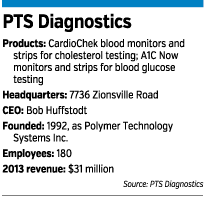 PTS swooped in to get the product even after Bayer had already closed its California factory that makes the A1C Now product. But PTS was able to rehire 54 of the 55 workers who had staffed the plant, and to keep A1C Now products on the store shelves of Walmart, Walgreens and other retailers.
Huffstodt vows PTS isn't going to repeat the same mistakes it made earlier in the retail space. Instead, PTS struck deals with Walmart and Walgreens to sell A1C devices under their in-store brands.
That means the chains do the advertising and promotion of the product, while PTS focuses on manufacturing and customer support.
What tripped up PTS earlier is that it had to spend so much money on advertising to promote CardioChek that it had little left for customer service, quality assurance and development of new product features.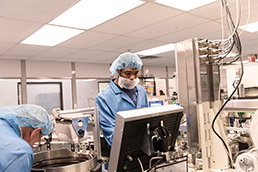 PTS Diagnostics workers make the test strips for its blood testing devices at a plant on Indianapolis' northwest side. (IBJ photo/Eric Learned)
"That was a tough challenge for a small company," Huffstodt said, referring to the heavy spending on advertising. "We had a perception problem."
So PTS diverted advertising money to fund an 18-person team dedicated to fixing the customer experience. They worked for 18 months to do informational training sessions with the distributors PTS relies on to sell CardioChek devices to its key customers: companies that do health care screenings at health fairs, employers and medical clinics.
Previously, those customer relations were left to PTS' sales reps, meaning it was getting only about half the attention it needed.
PTS' team also worked to beef up quality assurance at its manufacturing plant in Indianapolis.
Jessica Powers has noticed a change. The health services manager at RepuCare OnSite in Indianapolis used PTS' products while working for the Indiana University Health hospital system back in 2007, but the company offered little training to help her staff.
When she joined RepuCare two years ago, PTS trained her entire staff of 40 people. And whenever PTS has a new product, they come for a three-hour training session, Powers said.
PTS also offers live training sessions online every day for anyone who misses its in-person events.
"Quality and service have both improved drastically," Powers said. The training is so important, she added, because, while RepuCare does blood testing at an employer's workplace, "We'll have up to 20 people using the device. So we need to ensure they know how it works."
PTS' efforts to improve quality and service started translating into more sales in 2011. Also, at the end of that year, PTS sales got a boost when the company entered the China market and got traction immediately.
"It really took off in a hurry for us," Huffstodt said of China.
PTS now sells in more than 120 countries and derives half its sales from outside the United States. Huffstodt expects those businesses to grow because rising incomes in fast-growing markets and the adoption of Westernized diets are increasing the prevalence of heart disease and diabetes—the diseases PTS' tests detect.
The handheld, disposable nature of PTS' products make them easy to use in developing countries, whose health care workers are not clustered in high-tech facilities as they are in the United States.
Also in foreign countries, PTS partners with food companies and drug companies that stage screenings using PTS products as a way to raise awareness of the need for their healthy foods and medicines.
But Huffstodt is also high on the United States, in large part because of health care reform. Obamacare will expand access to health insurance, which should increase the number of customers buying diagnostic tests.
But changes brought on by Obamacare have increased the financial rewards available to doctors who make sure patients check their blood sugar and cholesterol.
Also, some new programs launched by Medicare and private health insurers have given doctors and hospital systems financial incentives to keep patients out of the hospital. A key way to do that is to use diagnostic tests to catch patients at high risk of heart attacks or with out-of-control blood sugar before they have to rush to the hospital. Or to use increased testing after a hospitalization to prevent the same thing from happening again.
PTS has been focusing on getting retail clinics—such as those run by CVS and Walgreens—to use its tests to get a quick sense of patients' health. Retail clinics and other efforts to make health care more convenient for patients are high-growth areas.
"The jobs to be done for these patients is to take care of minor issues. That's something that the current model is not doing a good job of. I think everybody understands that," said Spencer Nam, a health care researcher at the Massachusetts-based Clayton Christensen Institute. "The trend is bringing care to customers so that customers can take care of things quickly. I don't know if that's ever going to reverse."
PTS thinks its tests fit these needs nicely. They can generate blood readings quickly—90 seconds for CardioChek and five minutes for A1C Now.
It's certainly easier than going for full blood draws at a physician's office or medical lab, Huffstodt said.
"The first thing our test works for is more convenience and saving you from having to go back into the doctor," he said. "We facilitate easier monitoring after you've been diagnosed."•
Please enable JavaScript to view this content.