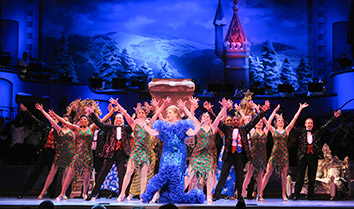 The 2014 edition of "Yuletide Celebration"—with its 200 costumes, 125 props, 12 snow machines and 56 microphones (requiring 2,000 batteries for the 26-show run)—isn't just a uniquely Indiana holiday tradition.
The tap-dancing Santas, reindeer puppets and carol arrangements also fulfill an essential role supporting the Indianapolis Symphony Orchestra's bottom line.
The month-monopolizing holiday extravaganza racked up $1.52 million in ticket sales even before opening night on Dec. 5—up from a total ticket take of $1.5 million in 2013. And that doesn't include money generated from corporate sponsors including IPL, which ponied up an undisclosed amount for a three-year title sponsorship beginning in 2014.
"It's crucial to our bottom line and one of our biggest brand-building activities, and it's one of the key elements to the ISO's strategy to utilize the orchestra in as many different ways as we can," said ISO CEO Gary Ginstling, who predicted that ticket sales will top $1.6 million this year.
"Yuletide" revenue represents 18 percent of the ISO's overall ticketing income, reported in the last fiscal year at $8.3 million. The show has become as essential to the ISO as "The Nutcracker" is to just about every ballet company in the country and "A Christmas Carol" has proven to be for theater companies.
The difference between "Yuletide" and those other holiday classics: "Yuletide" is a purely Indianapolis-born creation.
Uniquely Indianapolis
Locals might not realize that "Yuletide Celebration" is one-of-a-kind. Prominently featuring both the ISO and a high-profile host, the show combines tried-and-true sequences (such as the aforementioned tap-dancing Santas) with new and freshly tweaked numbers and guest performers. It requires 160 musicians, technicians, dancers, directors, stage crew and more who manipulate eight tons of scenery and lights.

Everly
No other orchestra in the country offers a holiday show on this scale for this many performances. In comparison, Detroit Symphony's December lineup offers a series of one-night concerts and five performances of its "Home for the Holidays" program. The Philadelphia Orchestra has three "Glorious Sound of Christmas" shows in a month that also features a Gershwin/Bernstein program and a weekend focused on Brahms. 
"It's definitely unique from the standpoint of a season-long, pops-style show," said Chicago-based arts consultant Drew McManus, noting that the Chicago Symphony Orchestra offers its "Welcome Yule!" show for eight performances while also presenting other programs.

Ginstling
"The only danger I see is when it becomes the tail that wags the dog—if the marketing department is overwhelmed with pushing that one product line, it can lose focus on other mission-related activity," McManus said. "You don't want to become a glorified presenter instead of a symphony orchestra."
"Yuletide Celebration" began in 1986 with an eight-show run. It later evolved under the guidance of producer Ty Johnson, who was brought in by then-ISO Music Director Raymond Leppard to create a more theatrical program, and it has grown steadily ever since. Hosts have included comedienne Kay Ballard, Tony Award-winner Judy Kaye, soap star Pamela Isaacs, opera star Sylvia McNair, NYC singing policeman Daniel Rodriguez, pop singer Maureen McGovern and, most often, gospel star Sandi Patty, who will return in 2015.
This year's edition, hosted by a pair of returnees—opera singer Angela Brown and Broadway singer Ben Crawford—also features the ISO's trio in residence, Time for Three.
The early years showcased a series of conductors—including famed Boston Pops Music Director Keith Lockhart in 1992-1993—but since 1994 the baton has fallen to Jack Everly, the ISO's principal pops conductor and someone used to eight shows a week, having served as music director for Broadway productions of "Hello, Dolly!" and "Showboat."
"There's nothing quite like it anywhere in North America," said Everly, who compares the show to the golden age of television when a variety program such as "The Ed Sullivan Show" might open with an opera singer, followed by a performing dog act, or a pop singer might precede a juggler ("Yuletide Celebration" has featured all four of those).
"I love the idea of bringing entertainment from a variety of genres into one evening," he said.
Could it work elsewhere? Everly and the ISO tried to find out during the 1990s when the ISO attempted to increase the return on its creation by licensing it to other orchestras and even creating a touring version.
"We discovered that it simply wasn't worth it," said Everly—who, one year, opened the show in Indianapolis, took another company on the road on the West Coast, then returned to close the Indy show. "When figuring out the rehearsal costs and extra work for everyone, it got to be impractical."
Jingle to the bank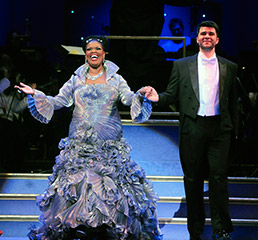 Opera singer and native Hoosier Angela Brown and Broadway performer Ben Crawford return this year for their second run as co-hosts. The two first paired to anchor "Yuletide Celebration" in 2012. (Photo courtesy of Indianapolis Symphony Orchestra)
Just as the on-stage formula sticks to the tried-and-true while adding new elements to keep things fresh, new ideas behind the scenes are tested to maximize the show's benefit to the ISO.
For 2014, ISO added VIP seats—which include valet parking and meet-and-greets with the cast—for $250 a pop, hoping to sell an average of 10 per performance. Ginstling said that, so far, they are selling well. He also pushed for "Yuletide" sales to begin earlier in the season.
In mid-September, tickets were available only to ISO subscribers, encouraging them to buy before the general public. The result: Before the show even opened, there were, according to Ginstling, "very few good seats left." It also helped reduce marketing costs for later weeks. And it cut the need for discounting—something the ISO does very little of for "Yuletide".
Ginstling said it's ideal but not essential that patrons who first encounter the ISO through "Yuletide" become ticket buyers for non-holiday concerts.
"We want them to come back and hear the orchestra with Krzysztof [Urbanski] and Jack [Everly]," he said, "but that's not part of the strategy. It's to have a wide range of programming and to attract as wide a range as possible."•
Please enable JavaScript to view this content.