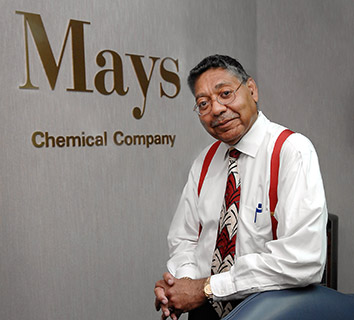 William G. Mays, who built one of the nation's largest minority-owned companies and saved one of its oldest African-American newspapers, died Thursday in Indianapolis on his 69th birthday.
Ebony Chappel, which announced May's death Thursday night, did not disclose the cause of death.
"Indianapolis has lost a titan of industry and philanthropy," Indianapolis Mayor Greg Ballard said in a written statement. "Bill Mays was a great businessman, mentor, and leader in our community.  My thoughts and prayers go to the Mays family and the many lives he touched."
Mays, a native of Evansville who graduated from Indiana University, founded Indianapolis-based Mays Chemical Co. in 1980 as a one-man operation and grew it into one of the 20 largest minority-owned companies in the United States.
Black Enterprise this month ranked Mays Chemical as the nation's 16th largest black-owned business, with $191.5 million in annual revenue and 212 employees. The company provides chemicals to manufacturers in the auto, pharmaceutical, food and beverage industries. Its customers include Eli Lilly and Co., Abbott Laboratories, Pfizer Inc. and Kellogg Co.
Mays also was owner/publisher of The Indianapolis Recorder, the nation's fourth-oldest African-American newspaper. He purchased the struggling newspaper, which dates to the late 1800s, in 1990. Readership grew from about 10,000 to close to 100,000 under Mays' ownership.
"The entire state of Indiana is a little less great because Bill Mays is no longer with us," Recorder President Shannon Williams said in a written statement. "There are very few people who are as transparent, supportive and business-savvy as he was, which makes his death even more difficult. I am grateful he had the insight and passion to purchase the Indianapolis Recorder Newspaper at a time when it was at its most vulnerable. His efforts helped to preserve the history of African Americans in Indiana. The entire Recorder family mourns his passing while also celebrating his lasting legacy."
Mays was local groundbreaker in business circles as the first African-American chairman of the Indianapolis Chamber of Commerce and the first African-American appointed chairman of the Indiana Lottery Commission.
He  invested—both money and time—in more than 100 companies, most of them minority- or women-owned, and donated millions to philanthropic causes.
Mays "leaves an indelible legacy of entrepreneurship, community service and advocacy," Indiana Black Expo CEO Tanya Bell said in a written statement. "Bill has always been an advocate for the African-American community and has invested and provided mentorship to numerous small businesses." He was "an invaluable asset to Indiana Black Expo and the community of Indianapolis. He worked tirelessly to build Circle City Classic and impact historically black colleges for 30 years. He will truly be missed."
Among his highest-profile investments was his joint venture with Bill Shirk that in 1993 bought television and radio stations, including WHHH-FM (96.3) and WYJZ-FM (100.9). The broadcasting properties were sold in 2000 to Maryland-based Radio One for $40 million.
He also served on the boards of Indianapolis-based health insurer WellPoint Inc., Evansville-based power utility Vectren Corp., the IU Foundation and the National Minority Supplier Development Council.
IBJ took a long look at Mays' impact on the business community in 2011 when he retired from executive leadership at Mays Chemical.
In a 2012 Forefront column, writer Robin Winston called Mays "a role model to business, community, civic and faith-based leaders," and a "continued presence and adviser to countless entrepreneurs and socially active groups in our community."
Mays is survived by his wife, Dr. Rose Mays, retired associate dean of community affairs at Indiana University's School of Nursing; daughters Kristin Mays-Corbitt, president of Mays Chemical, and Heather Mays Woods, an educator.
Mays' niece, former state Rep. Carolene Mays, is commissioner for the Indiana Utility Regulatory Commission and the former publisher of the Recorder.
Please enable JavaScript to view this content.