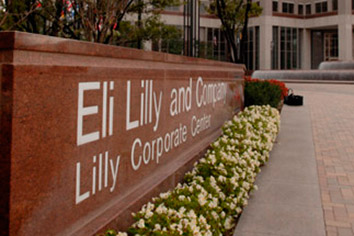 Eli Lilly and Co. and Incyte Corp.'s experimental drug helped patients with rheumatoid arthritis in a late-stage trial, the company said.
In the trial of 527 people with moderate to severe disease who had previously been treated without success, those given baricitinib saw a 20-percent improvement in their symptoms, Indianapolis-based Lilly said Tuesday in a written statement.
In rheumatoid arthritis, the immune system turns on the body, causing painful inflammation and damage in the joints.
Baricitinib may bring Lilly $673 million in 2020, according to the average of five analysts' estimates compiled by Bloomberg. In 2009, Lilly bought worldwide rights to the drug being developed by Wilmington, Delaware-based Incyte to treat inflammatory conditions.
Lilly is facing a wave of patent expirations on its top- selling products. Last year, the drugmaker lost exclusive marketing rights for Cymbalta, an antidepressant that sold $5.08 billion in 2013 and is projected to sell $1.6 billion this year.
Lilly didn't disclose the percentage of patients who met the trial's main goal of a 20-percent improvement of a score that assesses how tender and swollen their joints were. Lilly will make that result public next year, along with data on the number of participants who saw improvement of 50 percent and 70 percent, said Celeste Stanley, a Lilly spokeswoman.
Baricitinib is a key part of Lilly's attempt to once again become a big player in the development of autoimmune medicines.
Lilly shares were down 1.6 percent, to $71.65 each, in early trading Tuesday.
Please enable JavaScript to view this content.