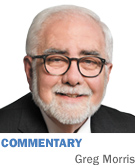 I'm fortunate in my job to meet and get to know some extraordinary people. Martha Lamkin is one of those special people who continue to inspire others with tireless community service efforts.

In recognition of her significant contributions, the Greater Indianapolis Progress Committee and Mayor Greg Ballard presented Lamkin with the 30th annual Charles L. Whistler Award Dec. 10 during a ceremony at the Ivy Tech Corporate College and Culinary Center.

The Charles Whistler award recognizes individuals who, outside the regular duties of their professions, have brought together the public and private sectors for civic improvement in Indianapolis.

Charles Whistler was a lawyer and community leader extraordinaire. At the time of his death in 1981, he was a senior partner at the Baker & Daniels law firm. Whistler's accomplishments helped shape the city we know today. Whistler was a significant contributing author of legislation that consolidated city and county governments under UniGov. He had leadership roles in the initial effort to revitalize downtown and the planning of White River State Park. Our lives are better today because of Whistler's vision and commitment to the public-private partnership in Indianapolis.

So, it's fitting that an award honoring the legacy of such an accomplished community leader be given to Martha Lamkin.

"At every step in her career, Martha Lamkin has worked hard to make Indy a great place to live," Mayor Ballard. said. "She routinely thinks outside the box in a way that draws people together to accomplish big things. Martha is an outstanding addition to the prestigious group of Whistler Award recipients. The impact she has left on the city will be felt for decades to come."

The list of Lamkin's accomplishments is long. Here's an edited-for-space look at some of her work experience, achievements and contributions.

Lamkin chairs the board of the Indianapolis Symphony Society and the Gateway to College National Network in Portland, Oregon. She serves as vice chairwoman of Tourism Tomorrow Inc. at Visit Indy, where she also chairs the Music Crossroads initiative and Tourism Master Plan Steering Committee. She serves on the boards of Christel House International Inc., Ivy Tech Community College Central Indiana Region Advisory Board, the Indiana Education Savings Authority, and Ballard's Your Life Matters Task Force.

Lamkin served as the founding president, CEO and board member of the Lumina Foundation for Education Inc. from its launch in 2000 until her retirement in 2007. She helped develop the concept of Lumina Foundation while serving as executive vice president of USA Group Inc., which she joined in 1991 and on whose board she served.

Previously, Lamkin served as president of the Cummins Foundation in Columbus, Indiana; executive director of corporate responsibility and government affairs at Cummins; and manager of the U.S. Department of Housing and Urban Development's Indiana office. Additionally, she served on the board of Citizens Energy Group Inc., formerly Citizens Gas & Coke Utility, for more than 20 years, retiring as chairwoman.

Additional past board service includes Meridian Mutual Insurance Co., Christian Theological Seminary, the Independent Colleges of Indiana, the National Council on Foundations, and Cathedral Arts Inc. She also served as a trustee and chairwoman of The Indianapolis Foundation and the Central Indiana Community Foundation, helping to create CICF and its Women's Fund.

Lamkin is a graduate of the Indiana University McKinney School of Law and was named a Sagamore of the Wabash by both governors Robert Orr and Mitch Daniels. She is a member of The Indiana Academy and serves as secretary of its board of regents. Lamkin and her husband, Dr. E. Henry "Ned" Lamkin Jr., have two children and four grandchildren.

Lamkin's name will be added to a limestone and granite monument containing past award recipients' names in the Charles L. Whistler Memorial Plaza at City Market downtown. The list of leaders she will join on that monument is a who's who of people who have helped shape this city.

At the invitation of Ballard, I've served on the GIPC board for several years. It's been a privilege. And it's my honor to offer congratulations to Lamkin for being named the 2014 Charles L. Whistler Award winner. Thank you for your service and all you've done to help make Indianapolis a great city.•

__________

Morris is publisher of IBJ. His column appears every other week. To comment on this column, send email to gmorris@ibj.com.