There isn't a significant difference, visually, between The District Tap (3720 E. 82nd St., 288-8251) and its immediate predecessor, Brewstone Beer Co. Unlike the leap from Discovery Zone to Music Mill and, after that, Music Mill to Brewstone, the latest change for this Keystone at the Crossing behemoth is significantly subtler.

This time, the changes didn't come by altering the dining room—still with plenty of TVs (personal ones if you are in a booth and don't know how to socialize) and a warming fireplace. There's a new darts and shuffle-table area, but I didn't get too close since I had a kid with me and it's off-limits to the young ones (which seems kind of cruel). The benefits of an outdoor patio will be tested once the weather warms—although epic parking lots rarely add to dining ambiance.

What's changed, first, is the service. Gone is the Brewstone cluelessness. In its place is a friendly-but-not-overly-familiar cheeriness that speaks to good training. Also upgraded is the quality of the food, which, while not terribly adventurous, delivered on just about every promise.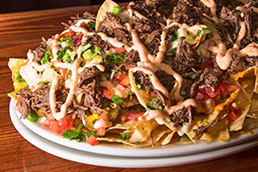 Short Rib Nachos, right, are an appetizing highlight. (IBJ Photo/ Eric Learned)
Short Rib Nachos ($13) offered a suitable-for-three plate of warm chips with jalapeno, radish, cheddar cheese, tomato, green onion and plenty of braised beef short rib shreds with a Sriracha aioli. Cactus Chili ($4/$6), a savory/sweet combo of ground beef, diced tomato, onion, corn, northern beans, spinach and the title ingredient, clearly took more care than is usually applied to bar chili. And it paid off.

Salads are sizable, with the Super Food Spinach Salad ($11) heaped with blueberries, edamame, shredded carrots, avocado, sunflower seeds, dried cranberries, and diced red onion in a raspberry walnut vinaigrette.

District Tap also offers a quartet of Mac-N-Cheese Pots, and when mac and cheese appears somewhere besides a kids' menu, it raises hope. Somehow, though, the roasted jalapenos, Andouille sausage, shrimp and spices in The Cajun Mac ($13) lost their battle with the cheese. Still fine, but not something I'd order again.

Of course, burgers dominate. They're composed of a custom grind of brisket, chuck and short rib on either a brioche or pretzel bun. We shared a trio of Tap Sliders ($13), served with American cheese, pickle and unnecessary onion straws along with a Dijon horseradish sauce. Even my kid didn't search for ketchup. A good sign. Kudos, too, to the half rack of fall-off-the-bone tender Baby Back Ribs ($14) with a chipotle-enhanced barbecue sauce. A full rack will set you back $23.

With a name like The District Tap, you'd expect the beer selection to be substantial. Here, 60 taps offer plenty to choose from. District Tap also offers a loyalty program, dance nights, Tuesday trivia and live music.•

—Lou Harry