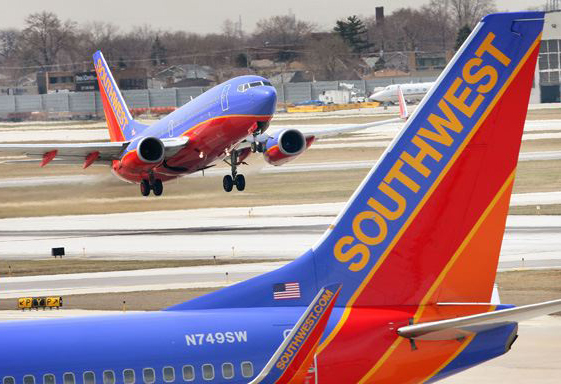 Southwest Airlines' plan to launch new nonstop service to Boston and Los Angeles could mark the start of increased competition for Indianapolis business travelers.
While the Dallas-based airline known for low fares and cattle-call boarding still doesn't do first-class seats, Indianapolis International Airport officials said its expanded service is clearly aimed at business travelers.  
"They said they want to meet with the business community more frequently. It's the first time in a long time we've seen an airline respond to their competitors," Indianapolis Airport Authority President Mike Wells said.
Southwest already sells pricier "business select" tickets, which come with top-priority seating and other perks. With the new service from Indianapolis, Southwest is matching or one-upping Delta Air Lines and American Airlines on schedules and plane size.
Both Delta and American fly nonstop to Los Angeles, but Southwest is the first to offer a schedule with a morning departure and return to Indianapolis before midnight the same day, said Marsha Stone, the airport authority's senior director of commercial enterprise.
Granted, it could be a hurried day with two long stints in the air. Southwest will leave Indianapolis at 7:30 a.m. and turn the plane around in Los Angeles a few hours later, departing at 3:30 p.m. local time. That would put travelers back in Indianapolis by 10:30 p.m.
Delta offers a similar same-day trip, but the flight home is a red-eye, leaving Los Angeles at 10:30 p.m.
American's flight to Los Angeles is at 7:10 p.m. with a return at 11:10 a.m. the next morning.
Delta and American each offer first-class seating on planes slightly bigger than Southwest's 143-seat Boeing 737s.
On the Boston route, Southwest is matching Delta's twice-daily departures, and in that case Southwest has the bigger plane.
Delta is currently making the 2-hour, 40-minute flight on regional jets with 69 seats to 76 seats. (Precise configuration of the planes operated by regional carrier Shuttle America was not available.)
"I think we will see Southwest acting more like a mainline business carrier," airport CEO Mario Rodriguez said.
Rodriguez said he thinks Southwest eventually will flood the Indianapolis market with a more convenient schedule and spur price competition.
At Southwest's request, airport officials set up a business-stakeholder roundtable following a Dec. 17 announcement about the new service, which starts in June. Southwest's announcement included new or expanded service in several markets.
Wells said he took advantage of the attention from Southwest and conveyed his personal wish for a flight to Austin, Texas. He said he wouldn't mind a direct flight if the stop were in Nashville. (A direct flight lands to pick up more passengers, but there are no plane changes.)
Please enable JavaScript to view this content.