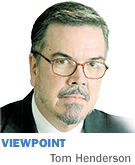 The Tesla store bans are among the more amusing betrayals of a citizenry by its governments that I've seen in a long time. The cable monopolies have a new challenger—the automotive dealership.
We love autos and trucks when they're good for business and infrastructure. In terms of practical daily and ongoing ownership, we often have a different experience. We're also enslaved to the price of fuel and the madness of insurance costs, highways, bridges and the paving of paradises.
Now, governors like Michigan's Rick Snyder have opened their bumbershoots against the horrible reign of terror, the ability for autos to be sold in a store, rather than a huge, expensive lot with money-making bays and the most hideous of advertising methods.
Huge fiefdoms of cross-brand dealership wealth (Remember when a Ford dealership would never think of selling Toyotas?) now permeate the landscape. Brand loyalty on the part of consumers distanced by horrid recalls, litigated cases of shoddy workmanship, and general distrust have made nothing but money for the fiefdoms—which now have long waiting lists for much-needed repairs on dozens and dozens of vehicle models—per brand, it would seem.
Some of these very brands were bailed out by your tax dollars and mine in some of the strangest bankruptcy workmanship the nation has ever seen.
Now comes an upstart, not dependent on the price of oil-based fuel for at least the consumer's part, willing to just take orders, and trying to do customer service in a different way. Suddenly, it's a pariah. The Steve Jobs "serve the customer" attitude now requires Tesla to invest in huge facilities, massive inventory financing, and the capex/opex outlays that your average Hyundai dealer must spend. It's a system. It's a racket.
That it wouldn't play in Michigan seems no surprise, where the outsourcing of labor, capital and community has caused the largest municipal bankruptcy in U.S. history. This is automaker country, and the attitude will be as staunch as staunch gets.
Unlike, say, Microsoft, IBM, Motorola and a host of others that had to change their business models rapidly and succinctly in the face of the success of Apple, the auto dealers simply have a tantrum, make some campaign contributions, point to the scars in the ground that once were the mighty muscle of manufacturing America, and make it illegal to use Tesla's sales model.
Retailers said the same thing when Walmart came to town. They adapted. Others screamed about Amazon. Amazon now pays taxes, too, no longer hiding behind the Interstate Commerce Clause loophole. Dell Computer ate Compaq's lunch along with the lunch of Computerland and many others. The key is listening to the customer, and being capable of adaptation.
Detroit is no longer made of backbone and iron. Michigan, like its once-biggest city, is more like a wimpy wet noodle. There's a lesson I hope Hoosiers have learned or are bright enough to quickly surmise: Legislated monopolies are bad for business.
A Tesla store opened in the Fashion Mall a year ago; in a not-odd coincidence, Apple is there, too.•
__________
Henderson is principal researcher of ExtremeLabs Inc., a Bloomington computer analysis firm. Send comments on this column to ibjedit@ibj.com.
Please enable JavaScript to view this content.