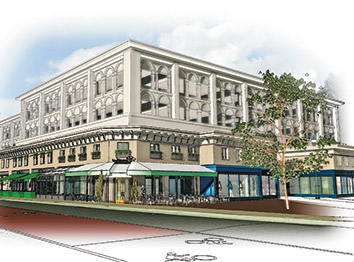 Pedcor Cos. pulled the trigger on the final phase of construction at the ambitious Carmel City Center redevelopment after city leaders OK'd public funding for a parking garage and other infrastructure.
Carmel-based Pedcor plans to add 10 buildings, including the garage, to the 88-acre mixed-use project—the centerpiece of Mayor Jim Brainard's vision for a dense hub of activity in the suburban downtown.
Luxury apartments in the existing City Center complex were 96-percent occupied at the end of the year, according to a Carmel Redevelopment Commission report to the City Council, and the 79,570 square feet of retail space was about 91 percent full.
As planned, the new buildings will add 575,000 square feet of retail, residential and office space by 2019.
The City Council voted 4-to-3 in mid-December to authorize a $20 million bond to pay for a four-story, 620-space parking garage, streets and other public spaces.
The debt is to be repaid with the new property taxes the development is expected to produce. Pedcor also provided an unusual array of financial guarantees to assuage concerns about the impact on taxpayers if revenue falls short.
Although the bond is secured with a special-benefits tax that could be levied on all property owners—a move proponents said is necessary to get the best interest rate—the multilayered protection is intended to ensure that doesn't happen.
Councilors also made sure to retain a seat at the table as the development moves from design to construction. Members must sign off on any significant changes to the site plan, construction schedule or project agreement.
Construction on the office-and-residential Baldwin and Chambers buildings is expected to start by mid-2015. Work on the garage should follow in late 2015 or early 2016.
Pedcor plans to invest $80 million to $100 million in the project, which is expected to add $77 million to the city's tax rolls.

Explore all of our 2014 Year in Review coverage.
Please enable JavaScript to view this content.