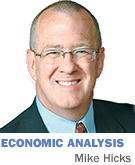 It is difficult to overstate how good a year Indiana's labor markets have seen. Last December, I forecasted the state to see 57,000 new jobs through 2014, with a drop of the unemployment rate to the low- to mid-sixes. This would've been good news, but the reality was better.
Nearly all labor force data in Indiana has seen improvements. Seasonally, adjusted jobs were right on forecast, with 54,000 created this year. However, I forecasted the raw numbers because the seasonal adjustment factors were changed in January. Here, Indiana has seen 71,500 new jobs this year, with December's typically strong numbers still ahead of us.
Indiana has also had labor force growth of more than 74,000 workers this year. This is important because it signals a change in the underlying confidence in hiring. Over the long run, adding more workers and people will be critical for Indiana's prosperity, and this year was a bellwether.
The growth in employment and labor force keeps our unemployment rate from dropping as quickly as in other states. This is a classic example of the inability of the unemployment rate to tell us a clear story about the state of the economy. It's important to note that Indiana now has more payroll employees than at any time in its history.
Other indicators are strong, as well. Initial claims for unemployment insurance have dropped to mid-1990s levels. Given the larger workforce, this means we are in a period of more stable job growth.
The only unhappy news is that wages have remained effectively unchanged for a year. This is part of a national issue that is likely more due to the polarization of labor markets between higher- and lower-earning groups than the experience of individual workers.
Understanding why this is happening is not as easy as repeating the statistics.
Beginning in 2005, Indiana made huge improvements in its fiscal conditions. Lower taxes and spending, and general improvement in the business climate, clearly helped make the state a better target for business expansion. This occurred at a propitious moment, since the Great Recession disrupted much business investment planning.
The result was that accumulated new investment found Indiana to be a better place for commerce. This is why, in part, Indiana now has manufacturing employment that is above where it should be if we'd followed the pre-recession trend.
Educational reforms have also helped. We have better schools and do a better job of preparing all students than even a decade ago. This will likely have long-term implications in attracting more households and improving the earnings of new graduates.•
__________
Hicks is the George and Frances Ball distinguished professor of economics and director of the Center for Business and Economic Research at Ball State University. His column appears weekly. He can be reached at cber@bsu.edu.
Please enable JavaScript to view this content.