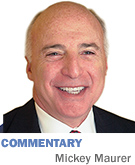 A few years ago, the Indiana Minority Health Coalition invited me to roast Bill Mays at a fundraising event. I told the assemblage that I never eat a lot before I give a speech because on a full stomach I would not be able to say anything meaningful. But then what was there meaningful to say about Bill Mays? In the past couple of weeks, a lot of meaningful things have been said about Bill, who died last month.
Bill was a loyal friend. Twenty years ago, my cousin Morrie and I organized The National Bank of Indianapolis. Bill was a member of the board of directors of The National Bank of Detroit, which was at the time a recent acquirer of Indiana National Bank. The executives there forbid him from buying stock in our new enterprise, but Bill was defiant. He let them know that our relationship was more important than his position on the board of NBD. He also invited me to the offices of Mays Chemical to pitch his lieutenants, many of whom also bought our stock. One of those former lieutenants, John Thompson, is on our board of directors today.
Bill, the elder statesman, granted access to everyone. He was a soft touch to budding African-American entrepreneurs. I was able to assist once in awhile. On one occasion we met with a barber who longed to have his own shop. Bill and I gave him the chance, offering to mentor him. Knowledge and guidance on entrepreneurship from Bill Mays was more valuable than the money we invested, but the barber thought he knew more about business than we did. He went belly up, and Bill and I paid the price. Bill just shrugged his shoulders and flashed that mischievous grin.
When Bill bought the Indianapolis Recorder, he became a competitor for newspaper advertising dollars. The masthead of the Recorder boasts "Indiana's greatest weekly newspaper." We debated that issue from time to time. Later he purchased local radio stations and competed with our broadcast properties. We congratulated each other for exiting the industry while the radio stations still commanded premium prices.
Just last year at a fundraiser for Joe Donnelly, Janie and I laughed with Rose and Bill about being duped when we rallied our respective communities for a fundraiser for Mel Reynolds. Until he had problems with his zipper, Reynolds was a folk hero in Chicago.
He had just won a primary victory in Chicago's Second Congressional District over incumbent Gus Savage, who most believed to be the worst congressman in office. Reynolds, on the other hand, lived with his family in a Chicago public housing project where he began his education in the public school system. He excelled at the University of Illinois and earned a law degree from Oxford University, where he was the first black Rhodes Scholar.
A diverse community gathered at our home to welcome Reynolds. The bright and eloquent young man spoke to us about his reasons for wanting to be a congressional representative. The adoring assemblage practically swooned when he said that learning and education are akin to watering the soul.
After he left the house, we slapped each other on the back and gave high fives for our efforts in propelling this brilliant man to Congress. Later we found that most of our contributions were never reported to the Federal Election Commission and that Reynolds was accused of fraud and of having sex with an underage campaign worker. He was convicted of many of those charges and sent to prison.
I also had an opportunity at that roast to say what a special privilege it was to support Bill and the organizations he deemed important and to thank Bill for all the work he had done for all of us. I will miss the new adventures and the new stories we would have shared. I miss my friend Bill.•
__________
Maurer is a shareholder in IBJ Corp., which owns Indianapolis Business Journal.  His column appears every other week. To comment on this column, send e-mail to [email protected]
Please enable JavaScript to view this content.