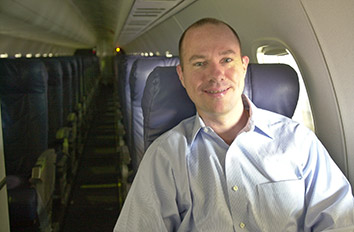 At its root, Republic Airways Holdings Inc. is a contractor, flying on behalf of airlines for a fixed fee and earning its profit on efficiency.
The business model is straightforward, but Republic hasn't always followed it in pure form. The company once operated six airline brands and detoured in 2009 into passenger service with Frontier Airlines.
Indianapolis-based Republic has spent the past year since selling Frontier getting back to basics and trying to ramp up profit in part by transitioning to a fleet of larger planes. CEO Bryan Bedford wants Republic to be the first contract carrier to phase out small, less-profitable, 50-seat jets, and he thinks he could get there by the end of 2016.
"Streamlining and simplifying our business will enhance our efficiency and allow us to focus on the products that we feel have the strongest future," Bedford told stock analysts last fall. "In fact, we were never more efficient as an airline [than] when we operated one fleet type under one operating certificate."
The halcyon days that Bedford referenced were under Chautauqua Airlines, the company upon which Republic was founded—and a brand name it eliminated last year.
In a largely paper-driven process, Republic transferred Chautauqua's operations to Shuttle America, one of two airlines remaining under the holding company umbrella. In mid-December, Republic notified investors that it's also talking to parties interested in buying Chautauqua's remaining assets.
Republic declined to answer questions about Chautauqua.
Observers think the sale will consist of Chautauqua's FAA certificate, an asset which, like a liquor license, holds value in a regulated industry. It could also include leases and contracts to fly some of Chautauqua's remaining 50-seat jets.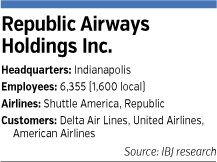 Republic's biggest critic, the pilots union, supports Bedford's simplification strategy. For one, pilots get a chance to earn higher wages as they become certified to fly bigger planes, said Dan Silbaugh, past recording secretary for the Indianapolis-based pilots union, International Brotherhood of Teamsters Local 357. In general, a more efficient airline is good for pilots because fewer flights get canceled and delayed, events that can reduce pilots' take-home pay, he said.
Consolidating Republic's operations under two FAA certificates is mostly a regulatory process, but it will also make the company run smoother, Silbaugh said. The FAA views each airline as a separate company, which forces Republic to do things like make reserve pilots and flight attendants available for each airline that operates out of a single airport.
Silbaugh captains a Q400 turboprop airliner for Chautauqua. Republic plans to eliminate the Q400, along with its 50-seat Embraer 140s and Embraer 145s in favor of the Embraer 170 and Embraer 175, which have 76 to 100 seats.
Silbaugh said he and other Chautauqua pilots feel no nostalgia for the airline, which launched 40 years ago in Jamestown, New York, and made Indianapolis its headquarters in 1994.
"It's just the name on the paycheck," he said.
Fewer, bigger jets
Republic thinks the bigger planes will make it more profitable, even as the company reduces the overall size of its fleet.
As Bedford explained to stock analysts, the bigger planes are more profitable because they carry more passengers for longer distances with the same size crew. "If we go from on average of 7.5 hours a day of production on a smaller plane or a turboprop to 10.5 hours a day on a bigger plane, we get almost a 50-percent bump in revenue," he said in October.
Republic officials wouldn't comment on the current makeup of the fleet. As of Sept. 30, it had reduced the small-jet count from 68 to 42.
Also at that point, Republic said it was using 198 larger jets, up from 167 the prior year.
In early 2014, Republic boasted to investors that it had 45 more jets with 70-plus seats than its nearest competitor, SkyWest. At that time, Bedford hoped to go from four plane types to two by the end of 2016.
A deal that Republic inked with United Airlines in September could accelerate that path. Republic signed a contract with United to fly 50 new Embraer 175s and eliminate the Q400 from its fleet.
The first 76-seater will arrive in July. Bedford said Republic could be flying one type of plane, possibly under a single certificate, by the end of 2016.
"Republic has been a little bit ahead of the game," said stock analyst Bob McAdoo of Imperial Capital in Los Angeles. "I can remember 2004, somewhere back in there, Bryan Bedford was saying then, he saw the end of 50-seaters. He wouldn't add more 50-seat flying if somebody asked him to do it."
Now Bedford only has to sublease or sell Chautauqua's legacy fleet to reach that goal, McAdoo said. "If he gets this last little bit done, he'll be out of it."•
Please enable JavaScript to view this content.