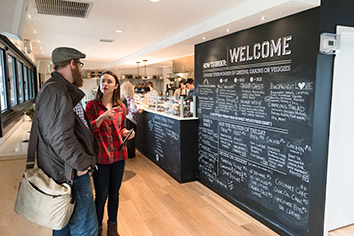 Recently opened along the Monon Trail, Public Greens Urban Kitchen (900 E. 64th St., 964-0865) may make you feel good about indulging.
The unique eatery—part of the Cafe Patachou universe—funnels all its profits to the Patachou Foundation, dedicated to feeding healthy meals to the homeless and needy.
With such a philanthropic idea at its core, it would be, well, uncharitable to be terribly critical of its offerings.
I'm thankful that the quality of Public Greens is such that no such moral wrestling match need be waged. But since the menu changes regularly—and since the ordering process and menu organization aren't quite traditional—it might be best here to spend more time focusing on logistics.
(IBJ photo/Eric Learned)
Here's how it works:
As you enter from the trail side of the building, you are immediately confronted with a potentially overwhelming chalkboard menu of choices. Yes, I know you are a grown-up and can handle it, but since you might be looking over the heads in front of you and trying to sort out how the system works, it's best to go in with some guidance.
The top of the changing-by-the-week menu is pay-by-the-portion: $6 gets you a portion of one main item, $10 for two and $12 for three. Fries—French or sweet potato—or soup count as an item. As such, you can order, say, the Roasted Brussels Sprouts with pomegranate seeds and toasted pine nuts for your $6 or a double portion for $10 or a portion with fries for $10. Or the Brussels Sprouts and two other choices—say, the Tater Cakes or the Roasted Rainbow Carrots (not as pretty as a post-rain light show, but delicious), for $12.
(IBJ photo/Eric Learned)
Got it? Not so fast. Public Greens' offerings aren't exclusively one price. Share a Snack sides run from $7 to $9—at least they did on our visit. Choices here include Arancini (essentially coated and fried stuffed rice balls made with roasted leek and organic white cheddar—recommended), Phalafel (Public Greens' spelling) and Vegan Chili.
And there's more. Need some protein in the mix? A heaping pile of slow-braised tender Pork Shoulder, Pan-Seared Rainbow Trout, or Beef Brisket adds $8 (which, unless you are a heartier diner than I, will lead to leftovers for another meal or two). Desserts can range from $2 Cinnamon Bombs to $7 Coconut Cake (the former, addictive; the latter, the only disappointment on our visit).
While still standing, you place your order with an iPad-wielding staffer, then head to your left past the open kitchen and display to a cashier. Next, you take your loaded tray and retrace your steps to a dining area to the right of the entrance and await anything that required more cooking time. Coffee is self-service—and you can grab a carafe of water to refill for yourself—or you can order a cold-pressed juice at the counter. (Liquid beets, anyone? Don't knock it till you've tried it.)
As with most cafeterias—and cafeteria-esque eateries—the bill can add up quickly to a more-costly-than-anticipated meal. But the newcomer—emphasizing fresh ingredients with preparations that draw out rather than mask their natural flavors—maintains the quality associated with its Patachou sibling. When you get such quality and have the excuse of helping a cause while you dine, a few extra dollars shouldn't hit too hard.•
Please enable JavaScript to view this content.