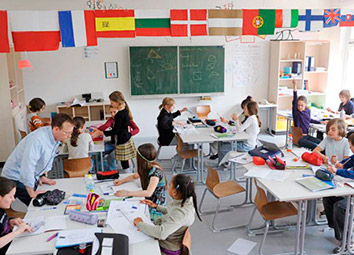 In the second year of what was intended to be a tough new system of evaluating state educators, the results were the same: hardly any were rated ineffective and nearly all were certified as doing their jobs effectively.
Less than 0.5 percent of educators were rated "ineffective" during the 2013-14 school year, a rating that would place them at risk of being fired, according to data posted on the Indiana Department of Education website in advance of a presentation planned for Wednesday's Indiana State Board of Education meeting.
That's about the same percentage as the prior year.
A slightly greater share of educators — about 2 percent— were rated in the second lowest of four categories, called "improvement necessary." The percentage of educators in the top category rated "highly effective," dropped to 26 percent from 35 percent, but nearly all of those who fell were rated in the next highest category, or "effective."
The ratings are based on an evaluation system put in place during the past three years that was expected to make it harder for teachers to earn top scores.
It hasn't, and that could lead the Indiana State Board of Education to ask districts to count student test scores as a bigger factor in the evaluation system in the future.
The overhaul was intended to formalize a process that was hit-and-miss in the past: some teachers were evaluated as infrequently as every three years, sometimes based on a single classroom visit from the principal. In most cases, those evaluations did not affect educator raises, and teachers were rarely fired for poor performance.
In most districts, the new system includes several observations and specially trained evaluators reporting strengths and weaknesses on a variety of skills. The 2013-14 data includes more school districts than last year and, for the first time, charter schools. The law's implementation schedule left out charters and districts still under old labor contracts in the first year.
State Superintendent of Public Instruction Glenda Ritz has advocated for improved teacher evaluation systems, but differed with Republican leaders and some of her fellow state board members about the details. In particular, Ritz favors more flexibility for local school districts to devise their own systems, including allowing local decisions about how much to factor in student test scores.
But so far the new system has produced little change.
An Indiana Department of Education study of a sample of school districts conducted under Ritz's predecessor, Tony Bennett, prior to the 2011 change in state law, showed very similar results were produced by the old system: 99 percent of educators were rated effective.
Indiana's law applies to anyone who carries a state certificate, which includes counselors, principals, superintendents and others besides teachers.
Changes are in the works, however. Claire Fiddian-Green, co-director of Gov. Mike Pence's Center for Education and Career Innovation, said the state board wants to clarify the rules. The board soon will share best practices and new guidelines that Fiddian-Green hopes will make the system work better.
She cited the number of F schools — about 4 percent of schools in Indiana last year — as out of step, with fewer than 1 percent of teachers rated ineffective.
"I do think that calls into mind whether the models, especially the local models, are being implemented with fidelity when it comes to the law," she said
Unlike other states, Indiana gives local school districts tremendous flexibility to develop their own systems to judge performance. While districts must ultimately assign each educator a 1 to 4 rating, how they get there varies widely. Because of those variations, it can be hard to determine how well school districts follow the state evaluation law.
For example, state law says student gains should be a "significant" factor in an educator's rating, but it leaves it to schools to figure out exaactly how much weight to give improvement. Fiddian-Green said the clarifications, set to come before the state board in February, could set a range of percentages for just how much student test scores should factor in.
"It would be too far for me to say that there was a question of the validity of the data," Fiddian-Green said. "I think it's more that this is a new system and we're working out the kinks."
But Teresa Meredith, president of the Indiana State Teacher Association, said the results are encouraging.
"I think statewide, by and large, most of our teachers in the profession are doing a really good job," she said.
For the first time, the state released separate totals for teachers, superintendents and principals. Democratic House leader Rep. Scott Pelath, D-Michigan City, said looking at the performance of administrators as well as teachers is a good idea.
"One thing we're starting to hear is that we shouldn't be blaming our teachers for everything we perceive as wrong with education," Pelath said. "And I'm starting  to hear that come from my friends across the aisle."
Those results showed superintendents got the best ratings of all, with 41 percent rated highly effective and just 0.22 ineffective. Two-thirds of all superintendents were rated in the top two categories.
Teachers had fewer in the top category (35 percent) but more rated in the top two categories (89 percent) and 0.34 rated ineffective.
Principals had the most rated ineffective, but the percentage was still tiny, 0.58 percent, and 86 percent of principals were rated in the top two categories.
Under Indiana's law, effectiveness is rated on a 1 to 4 scale. Factors that go into the ratings of teachers include observations by administrators or other trained evaluators, student test score gains and other factors that vary by school or depend on the subject taught.
Sanctions for those rated in the lowest categories are serious. An ineffective rating, a 1 on the scale, can be cause to fire an educator immediately. Those who are rated in the next lowest category, a 2 or in need of improvement, can be dismissed if they fail to raise their ratings to effective (3) or highly effective (4) after two years.
Included with the latest results are two additional sets of data: one looking at the connection between educator quality and school A to F ratings and another looking at the possible effects of educator quality on teacher retention.
There appears to be a strong connection between educator effectiveness and school grades. Schools with A grades have far more highly effective teachers on average (more than 40 percent) than schools rated F (about 15 percent).
The reverse is also true. Although the numbers are small, the percentage of educators rated in the two lowest categories was more than five times high at F schools (more than 5 percent) than at A schools (1 percent).
A-rated schools were far more likely to keep their teachers employed in the same school or school district (85 percent retained) than F rated schools (64 percent).
Meredith pointed out that in charter schools rated D or F, more teachers were rated ineffective than in traditional school districts rated D or F. In traditional schools rated D or F, ineffective teachers made up less than 1 percent of all teachers. But in charter schools rated D or F, more than 10 percent of teachers were rated ineffective.
"Why would you keep someone who's doing that poorly of a job?" Meredith said. "As a parent, if there was an ineffective person in a school system and they are listed on that chart, I would be upset … to see charter schools be so high is a little frightening to me."
Meredith said she was also concerned that evaluations could be increasingly based more on student test scores. Those scores, she said, are a snapshot of a student's performance at one point in time, whereas teacher evaluation data now is mostly based on an entire year of observation in addition to more objective measures.
Tosha Salyers, spokesperson with the Institute for Quality Education, said it's more fair that teachers are being evaluated with objective data. The Institute advocates for changes in education policy, favoring ideas like greater scrutiny on educator performance and wider school choice offerings.
Salyers said when she was a teacher, performance evaluations were too subjective and did little to help her improve.
"We think there's still work to be done," Salyers said. "The legislation is fairly new, and we think that the more schools become comfortable with it that the results will do what they should do: inform teachers' practice. What we hope is that it's a tool being used as not a punitive thing, but as a way to help teachers grow."
Please enable JavaScript to view this content.