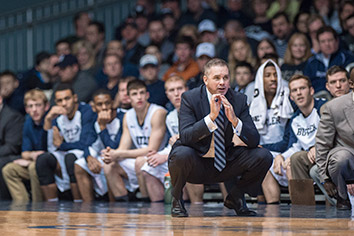 Sure, down on the court, Chris Holtmann is having the time of his life, now that the whims of fate have made him the head basketball coach at Butler University.
But what about the woman sitting in row 14 behind the Bulldogs' bench in Hinkle Fieldhouse? What's her take on all this? It was an hour before her husband was to coach another game at Butler, so she sat down in his office to answer.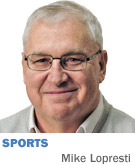 "I think that you learn early when you're a coach's wife, to expect the unexpected," Lori Holtmann began. "But this is what he was put on this Earth to do."
They met when both worked at Taylor University. Lori Bedi had never seen a college basketball game in person in her life, partial more to football growing up in Maryland. Their first date was to watch a game at a sports bar in Muncie. And so, it began.
She has been a coach's wife since 1999—they married on Sept. 11, destined to forever share, in Lori's words, "the worst anniversary in the world." She knows the drill by now. The constant pressures and the frequent packing. How good days almost always come with bad. How the tone of life can sway this way or that, with a couple of clicks on a scoreboard.
She has tales to tell about Butler's new head coach.
Take their first year of marriage when they were at Taylor.
"Funny story. Taylor faced a must-win game to advance to the conference tournament. They lost. He didn't come home after that game. I kept waiting for him to call, and finally, hours later, he called to tell me he was staying at a hotel. He only did that once."
Flash forward to the past few hectic months at Butler.

Lori Holtmann
"There have been some sleepless nights for me, too. There have been a couple of nights when I kind of sense he's awake. It's like, 'Are you awake?' 'Yeah. Are you awake?' 'Yeah.'"
Then there were the years Chris was head coach at Gardner-Webb University in North Carolina. Did a fine job, but no coach gets away without tough moments. The wife, too.
"The highs are so high, the lows are so low. Early in our marriage, when we would lose a game that we should have won, I knew exactly which games I needed to make a bed for him on the couch. I knew he wasn't going to sleep. I knew he couldn't lay in bed, that he would just be going over it.
"No couch games here at Butler yet. Not to say that there won't be."
Tylenol PM is Chris Holtmann's go-to aid when the fickle fortunes of basketball are pistol-whipping his sleep patterns.
"We have multiple bottles," she said. "There's usually one in the car—we have a baggie of them in there right now—and he has them in his briefcase and in his office, so they're everywhere, just in case. Why he has them in his office, I don't know. Maybe they're just straight Tylenol."
Don't misunderstand. It's not all restless nights. The Holtmanns love coaching and love being at Butler.
"Being a coach's wife is not for everybody," Lori said. "If you're looking for the white picket fence, the husband-home-at-6-o'clock kind of life, you're not going to get it. But the adventure of it is second to none.
"He's doing what he loves and what he's best at. I think I've gotten so used to the life, it doesn't even really feel hard anymore."
Adventure? An appropriate word for the past 18 months or so with the Holtmanns.
They were settled in at Gardner-Webb, planning to spend a few more seasons. Then Brandon Miller called with an assistant coaching offer at Butler. 
"This was a place we knew was special to us," she said. "And I think the draw was the Big East. He's always wanted to coach at the highest level, and he felt like being an assistant here would let him get to that spot quicker. I was on board with that, even with how hard it was to leave Gardner-Webb. It was excruciating to leave."
So they figured the assistant's job would stick for a few years. Then Lori answered a phone call from Chris last October. "He was on the road and he said, 'Hey, I just got a call from Barry [athletic director Collier] and I need to come home. Can you find me a flight?' You're never surprised. So I found him a flight home.'"
The next day, Chris was named interim coach. Miller was gone, for health reasons still largely unexplained. On Jan. 2, with Butler off to a good start, Holtmann was given the job to keep.
"I tell everyone it really is surreal. No one could have scripted this," Lori said. "Never in my wildest imagination would I have thought that one year later, we would be in this spot. It's a very special and humbling situation, one that we are so thankful for and honored by. Yet, the circumstances of how it happened are not lost on us, either.
"You're in a conflicted spot. You feel so blessed, but you've got these great friends who are hurting."
She understands she will see her husband less, and buy Tylenol more. But they still watch tapes together and this opportunity is so special for the family. Chris, Lori and 4-year-old Nora Jane, who, according to her mother, shows little interest in basketball and "is probably going to be a more music or art kind of girl."
So is Chris, the basketball junkie, disappointed he probably won't have another Diana Taurasi? "He might have been if we'd had a son. Not so much with her."
There is something else with this sudden change in their lives. Lori has watched her husband grow.
"I appreciate what Chris has been saying about not letting this team define itself by one particular moment, good or bad. I have never heard him put it like that before, and it has really helped me. I told him recently that, after 15 years, I thought I had seen everything he had. He found another gear and has faced this difficult circumstance with a level of poise and professionalism that was not necessarily surprising, but definitely impressive."
With that, she was off to row 14 to see Butler play Providence. The Bulldogs would lead most of the night but lose in the end, 66-62. "This one stings," Chris later told the media.
Back home, Lori Holtmann had the Tylenol PM ready. And, if necessary, the couch.•
__________
Lopresti is a lifelong resident of Richmond and a graduate of Ball State University. He was a columnist for USA Today and Gannett newspapers for 31 years; he covered 34 Final Fours, 30 Super Bowls, 32 World Series and 16 Olympics. His column appears weekly. He can be reached at mlopresti@ibj.com.
Please enable JavaScript to view this content.