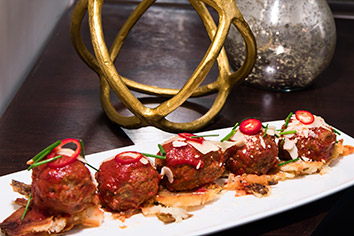 The website for Spoke & Steele (123 S. Illinois St., 737-1616) boasts that it's "the next big thing in downtown Indy." To be sure, Le Meridien, the boutique hotel that Spoke & Steele fronts, has experienced an upgrade. Gone is the hunt club atmosphere that defined the space when it was the entryway to the Canterbury Hotel. Now, there's a dining room with big windows on Illinois Street, a cocktail-focused bar, a private dining room, and a specialty drinking room. Keep exploring and you might find the Le Meridien check-in counter (keep drinking, and you might need to actually check in).
Our lunch visit didn't lead us to believe we'd stumbled upon "the next big thing"—when your neighbors are named St. Elmo, Harry and Izzy, realism is probably helpful. But we did find a promising dining spot (named in honor of both the city as the center of Indiana and artist T.C. Steele) where fine-tuning could lead to a stronger recommendation.
Things started strong with the bluntly named Meatloaf Nugs (3 for $10 or 5 for $15), finding the best of both the meatball and the meatloaf world, served with smashed potato, and a beautiful/delicious Pear and Apple Salad ($9). Skipping ahead, the Lemon Pot au Crème ($9) was a sublime dessert. Combined with our appetizers, it would have added up to a delightful lunch if not for the pair of lackluster entrees that came between.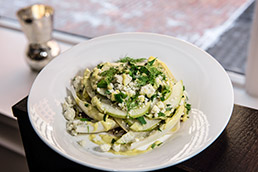 Meatloaf Nugs, above, and Pear and Apple Salad are among the winning Spoke & Steele appetizers.
The Indy Schnitz ($13) is the cutesy, outsider-y name for a tenderloin sandwich. While nobody should expect the dinner-plate-size monstrosities served at any given Indy pub, one should expect more flavor than found in this ho-hum offering. Chipotle aioli, some iceberg lettuce and house dill pickle did little to earn it a place in the pork pantheon.
I imagine many visitors will avoid the Soigne ($18), not out of lack of interest in an ahi tuna burger but in fear of mispronunciation. No big loss. The sandwich, served with bib lettuce, miso-chili aioli, house pickles and radish slaw turned out to be entirely under-seasoned, even with the spicy aioli. More texture than substance.
Perhaps we would have had more luck with the more adventurous-sounding dinner menu, stressing charcuterie and cheese platters, plates both small (Almejas and Baked Navajo Tacos) and large (Dry Aged Duroc Pork Chop, Pan Roasted Walleye), and simply prepared proteins (Prime Flat Iron Steak, Crispy Skin Striped Bass).
Another promising note: Spoke and Steele is open for breakfast, offering a rare downtown chance to have a meeting over a chef-created morning meal. Offerings include Pork Belly Benedict ($15), Potato & Zucchini Frittata ($13) and Whole Wheat Pancakes with bourbon glazed banana ($12).•
—Lou Harry
Please enable JavaScript to view this content.