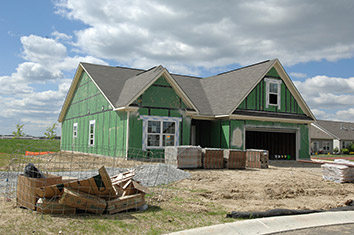 Homebuilding activity slowed slightly in December, but 2014 still turned out to be the busiest one for builders in central Indiana in seven years.
Builders filed 325 single-family building permits in the nine-county metropolitan area last month, the Builders Association of Greater Indianapolis said Tuesday. That was down 2 percent from the 333 that were filed in the same month of 2013.
However, 5,084 permits were filed overall in 2014, a 3-percent increase over the 4,959 filed in 2013.
Area builders haven't topped 5,000 permit filings since 2007, when 7,326 permits were issued.
Marion County saw 813 filings in 2014, up 11 percent from a year ago.
As usual, Hamilton County led the area in filings, with 1,833 in 2014, but that was down 3 percent from the year before.
Filings were up 8 percent in Hendricks County, to 749, and rose 1 percent in Johnson County, to 629.
Hancock County saw a 33-percent rise in permits in 2014, to 350. Filings fell 13 percent in Boone County, to 424.
Filings were up 23 percent in Morgan County, to 124, and up 17 percent in Madison County, to 97.
Shelby County saw only 65 filings, an 11-percent decline.
Please enable JavaScript to view this content.