Indianapolis Public Schools Superintendent Lewis Ferebee said the most persistent challenge he has faced since taking the helm of central Indiana's largest public school district has been low expectations among employees, students and community stakeholders.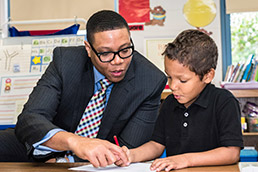 Lewis Ferebee moved from North Carolina to run IPS in September 2013. (IBJ file photo)
"I firmly believe you get what you expect," Ferebee said in an interview with the education news site Chalkbeat Indiana. "This woe-is-me, playing-the-victim mentality, I didn't anticipate."
Shortly after arriving, Ferebee tweeted that IPS' central office wouldn't be "an adult employment agency." He lectured a cafeteria full of teachers from low-performing schools that he wouldn't put up with "parking lot planning" from unprepared teachers who made up their lessons in the car just before classes began.
IPS also adopted the slogan "Proud to be Public" to combat a frustratingly prevalent belief that IPS can do little to improve student achievement with so many poor children. Eighty-two percent of its students come from families poor enough to qualify for free or reduced-price lunch.
Please enable JavaScript to view this content.